Call for:

Healthcare Research Pilot Studies
In ten years, the Delft Health Initiative has made health innovation a core research theme at TU Delft. Now is the time to build on this foundation, and to set course towards an even bigger impact for a better society.
The TU Delft Health Initiative objective is to promote research in the field of Healthcare at Delft University of Technology. In order to ensure that the research involved in healthcare related topics is accelerated, cooperation with external parties such as other universities, (academic) hospitals and business is essential. To support this type of collaboration, the Delft Health Initiative organizes a call for pilot studies in the field of Healthcare preferably on, but not limited to, the topics Oncology, Neurology and Cardiology.
You can apply for a " Pilot Project" if you need a proof of principle or for a pilot project in defining a new research project. If you are confident that your research will contribute to Healthcare related research, apply for a fund of € 10.000,- !
CONDITIONS
Who can apply?
All faculty members of Delft University of Technology (assistant and associate professor; including "tenure-trackers", post-docs). The main applicant should have an appointment of minimal 0.6 FTE at the TU Delft.
Type of funding & requirements
- You can apply for funding of € 10.000,-
- This money can be used for hiring research staff and/or student assistants as well as for materials and/or prototype development
- Funding is provided to perform a pilot study or proof of principle study, and should be a first step in defining a new research project in the field of Health
- The pilot project needs to be relevant in the field of Healthcare research, preferably on, but not limited to, the topics Oncology, Neurology or Cardiology.
Pitch your proposal on January 23rd 2020
On January 23rd, we have the 'FutureHealth@ TU Delft' event (https://www.aanmelder.nl/112942 ). After your application (deadline January 6th 2020) we will inform you if your proposal is selected for the 'semi-final' to give a short pitch during this event. In the end, we are planning to award three proposals with the funding of € 10.000,- during the 'final' in the afternoon of January 23rd.
SELECTION AND TIMELINE
Deadline: proposals can be submitted to health@tudelft.nl before Monday 6th of January 12:59h.
Selection procedure
All submitted applications for a research pilot project will be evaluated by the TU Delft Health Initiative Steering Committee, led by Richard Goossens (Chair Delft Health Initiative). Based on the selection criteria the Committee will judge and value the proposals. The Steering Committee reserves the right to deviate from this evaluation procedure for policy reasons, like diversity in topics. The TU Delft Health Initiative intention is to support three pilot projects.
Selection criteria
Each application will be evaluated using the following criteria:
- Quality and originality (40%)
- Opportunities for finding external funding of the proposed research (20%)
- Fit of research project related to Health (20%)
- Realistic project schedule (20%)
GUIDELINES FOR THE PROPOSAL
Project proposals are strictly limited to 2 pages A4, Calibri Regular 11pt and should be submitted electronically as PDF. The application should contain the following contents:
I. Description of the project
Specify the project in which at least the following elements are included:
- Project description: What is the question to be solved in this project and the relevant context?
- Objectives: What are the research goals of this project?
- Approach: Which activities are planned to be performed?
- Dissemination: How to achieve impact?
- Continuation: How do you plan to continue and fund the research after the pilot project?
II. Budget
Add a budget overview of the project that includes:
- The total expected costs to be incurred in order to achieve the objective(s).
- Overview of the expected costs for each partner involved (cash and/or in-kind) and give an indication of the time frame of the implementation of these activities.
CONTACT
Feel free to get in contact with the TU Delft Health Initiative:
Prof. Dr. Ir. Richard Goossens                         Drs. Emelie van Bentum
Chair TU Delft Health Initiative                        Secretary TU Delft Health Initiative r.h.m.goossens@tudelft.nl                               e.a.m.vanbentum@tudelft.nl
FutureHealth@TUDelft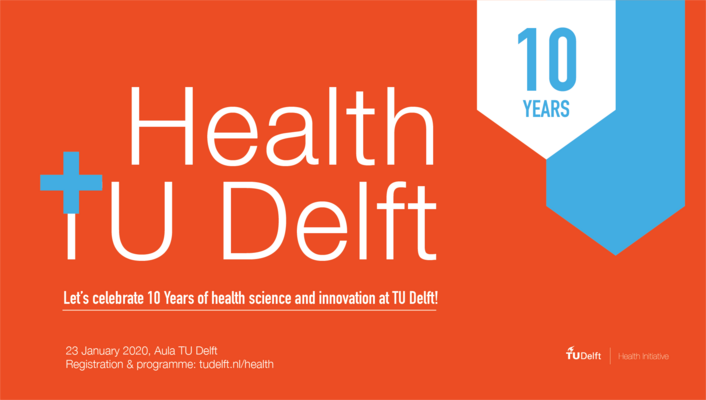 Registration website for FutureHealth@TUDelft
Martine van Diepenbruggehealth@tudelft.nl
Martine van Diepenbruggehealth@tudelft.nlhttps://www.aanmelder.nl/112942
2020-01-23
2020-01-23
OfflineEventAttendanceMode
EventScheduled
FutureHealth@TUDelftFutureHealth@TUDelft0.00EUROnlineOnly2019-01-01T00:00:00Z
TU Delft, Aula TU Delft, Aula Mekelweg 5 2628 CC Delft Netherlands