Workshops
OncoTech workshop
With great pleasure we invite you to participate in the Oncology for Technology workshop taking place during TU Delft's Future Health Day. 
The first part of the event, from 9:30 to 11:00, is reserved for workshops, in which we invite researchers across the TU Delft campus to share with us their ideas about the future research agenda of DHI 2.0. The workshops are furthermore meant to get to know each other and to explore possibilities for collaboration.
As a researcher interested in oncology applications, we invite you to participate in the OncoTech Workshop. The workshop will start with short pitches, sketching the current landscape of OncoTech research at TU Delft and relevant challenges in oncology, after which a speed-dating session is organised to generate potential collaborative projects.
We ask each participant to prepare a 1 minute, 1 slide presentation of your/your groups' research on Technology for Oncology to present during the workshop.
-------------------------------------------------------------------------------------------------------------
CardioTech workshop
The Delft Health Cardiotech group invites you to an explorative workshop on opportunities for new research collaborations. Based on current and future subsidy agendas the workshop investigates research opportunities along the full patient journey. Participants will have the opportunity to share and discuss ideas for projects. Technical researchers with an interest in cardiology as well as health professionals and researchers are cordially invited to join this workshop. As space is limited, please make sure to register for the workshop.  
------------------------------------------------------------------------------------------------------------
NeuroTech workshop
At the TU Delft, there are many research activities in the domain of neuro-engineering. Think about, e.g., tools for neuroscientific discovery, technology for neuroimaging, neuro-rehabilitation, neuro-surgery, neuro-immunology, neuro-urology, (computational) neuro-biology, neuro-computing, bioelectronics medicine, etc.
At the same time, there are regional, national and international consortia and programmes, such as the Medical Delta, NeuroTechNL, NeuroLabNL, IEEE Brain, NIN, the Human Brain Project, etc. 
Who are the people behind this technology and in what consortia are they active?
This workshop of the NeuroTech pillar of TU Delft's Health Initiative will inform us about what is cooking in NeuroTech at TU Delft and, most importantly, offers an opportunity to get to know each other and join forces.
FutureHealth@TUDelft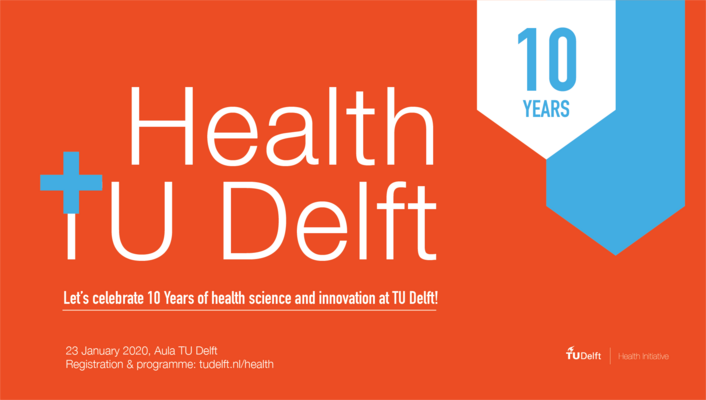 Registration website for FutureHealth@TUDelft
Martine van Diepenbruggehealth@tudelft.nl
Martine van Diepenbruggehealth@tudelft.nlhttps://www.aanmelder.nl/112942
2020-01-23
2020-01-23
OfflineEventAttendanceMode
EventScheduled
FutureHealth@TUDelftFutureHealth@TUDelft0.00EUROnlineOnly2019-01-01T00:00:00Z
TU Delft, Aula TU Delft, Aula Mekelweg 5 2628 CC Delft Netherlands