Download our flyer!
The University of Amsterdam's Institute for Information Law (IViR) announces the 7th IVIR Summer Course on Privacy Law and Policy. The course will focus on privacy law and policy related to the Internet, electronic communications and online and social media.  It will explore the broader trends and recent developments in this rapidly changing field and explain how businesses, governments and other stakeholders can achieve their goals within it. The course will feature a distinguished faculty of European and US academics, regulators and practitioners who will investigate the EU and US legal frameworks and how they operate together. Participants will acquire the essential knowledge necessary to navigate privacy law and policy for online services that operate in the EU and the US. The seminar format promotes interaction among participants and faculty, and incorporates a range of practical exercises to apply the knowledge.
Enrollment is limited to 25 participants.
Goals of the course:
At the conclusion of the course, participants will:
(1) Understand the latest developments in EU and US privacy law related to the Internet, electronic communications and online and social media;
(2) Have insight into how privacy law and policy will develop in response to economic trends and technological innovation;
(3) Be introduced to the most current and relevant European and American legislative, judicial and regulatory documents which are made available as course materials.
Intended audience:
The course is aimed at lawyers, government officials, NGO staff, academics, PhD students and others who work in the areas of privacy and data protection law. The course is taught at the post-graduate level. Participants should have some prior knowledge of the field.
Timing and Location:
The course will extend over a five-day period from July 1 to 5, 2019 and is held at the KIT (Koninklijk Instituut der Tropen), Mauritskade 63 Amsterdam. Check out our flyer!
Certificate:
At the close of the course, each participant will receive a Certificate indicating completion of the programme.
IAPP and NOvA:

The summer school has been approved by the International Association of Privacy Professionals (IAPP). IAPP certified participants can obtain a maximum of 27 CPEs for attending the Annual IViR Summer Course on Privacy Law and Policy (see here for instructions).
Dutch legal professionals can also obtain NOvA credits (see here for instructions).
To apply:
Please use our online application form.
Fee:
The tuition fee includes the seminar materials, five lunches and coffee or tea breaks, a boat tour and welcome dinner as well as the closing reception.
Standard fee € 2100;
Civil Society Fee: € 1350;
Academic Fee: € 975.
Faculty Organisers:
Kristina Irion, Marie Curie Fellow, Institute for Information Law, University of Amsterdam, NL;
Dennis Hirsch, Geraldine W. Howell Professor, Capital University Law School, US
Format and programme:
The course will be divided into nine sessions each of which will explore in depth a specific issue of privacy law and policy. Participants and faculty will eat lunch together each day and will have further opportunities to interact over the course of a boat trip on the Amsterdam canals with welcome dinner and a reception.
Further information:
Kristina Irion
Institute for Information Law, University of Amsterdam,
THE NETHERLANDS
tel: +31 20 525 3406
email: informationlaw@uva.nl
Website: http://www.ivir.nl
IViR Summer Course on Privacy Law and Policy 2020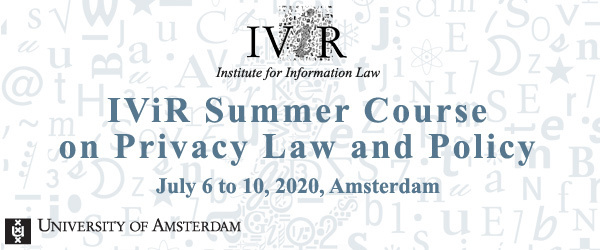 Registration website for IViR Summer Course on Privacy Law and Policy 2020
IViR Summer Course on Privacy Law and Policy 2020informationlaw@uva.nl
IViR Summer Course on Privacy Law and Policy 2020informationlaw@uva.nlhttps://www.aanmelder.nl/113357
2020-07-06
2020-07-10
OfflineEventAttendanceMode
EventScheduled
IViR Summer Course on Privacy Law and Policy 2020IViR Summer Course on Privacy Law and Policy 20200.00EUROnlineOnly2019-01-01T00:00:00Z
To be announced
To be announced