Module 1 - General knowledge
Fundamental knowledge about organ donation, physiology, and biomechanics will be discussed. The process of organ donation has a significant impact on the quality of the graft. This section includes country-specific laws and regulations, the organ allocation system, donor criteria, and donor management from admission to the ER to the ICU department. The teachers for organ donation are Drs. Sijbrand Hofker, Drs. Gjalt Westland, Drs. Meint Volbeda, and Marjan Bijmolen.
Physiology underlies all processes in the human body. After a short recap of the in vivo physiology, this section details the physiological processes behind ischemia and reperfusion. Furthermore, the physiology of an organ during ex vivo machine perfusion will be discussed. Different strategies are developed to preserve, improve or test potential donor organs. The teacher for physiology is Prof. dr. Henri Leuvenink.
Machine perfusion relies on common basic biomechanical principles, which will be discussed in the biomechanics section. We will focus on the physics of fluids, materials used in a clinical perfusion setting, and biochemistry. All the different components of a perfusion device will be discussed, and you will be provided with all the essential knowledge you need to understand the mechanism of organ perfusion. The section biomechanics teachers are clinical perfusionists Dr. Roland Hoffmann and Drs. Sandra Horsten.
 Module 1: January-April 2023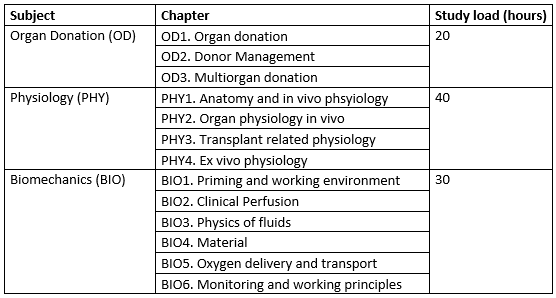 Online teaching days module 1: 13 January, 27 January, 17 February, 10 March, 24 March (all on Friday morning 9 AM – 14 AM (CET).
Skills week module 1: 20-24 February
Educational Program Organ Perfusionist

Registration website for Educational Program Organ Perfusionist
Educational Program Organ Perfusionistpaog@umcg.nl
Educational Program Organ Perfusionistpaog@umcg.nlhttps://www.aanmelder.nl/126986
2022-01-14
2023-03-17
OfflineEventAttendanceMode
EventScheduled
Educational Program Organ PerfusionistEducational Program Organ Perfusionist0.00EUROnlineOnly2019-01-01T00:00:00Z
To be announced
To be announced