BNP Paribas Fixed Income would like to invite you to:

Foreign Exchange and Interest Rate Market Update Sessions

Times are changing, the market has moved into the next stage of the economic cycle and now is the time to plan ahead. How can treasurers prepare for negative interest rates, increased volatility or the implications of quantative easing. BNP Paribas, one of the largest market makers in the FX and interest rate environment, wants to share its insights to help you get prepared.
You are cordially invited to join us over breakfast or lunch where the following speakers will shed some light on their view of current global markets.
 
Speakers
During the seminar two speakers will be present:
1. Phyllis Papadavid, Senior Global FX Strategist, who will provide an update on recent developments on the currency markets and outlook for the coming months. She will answer questions such as:
How low can EUR/USD go?
Will we see a recovery in emerging market currencies?
What will happen to pegged currencies as AED, DKK and HKD, the same as with the CHF?
2. Gizem Kara - Senior Eurozone Economist, BNP Paribas London will focus on the interest rate developments and the expectations BNP Paribas has for the coming years. In addition, she will discuss the effects of Quantitative Easing. She will answer questions such as:
 Can the Euro interest rates fall further?
 When will we see the effects of QE on inflation?
 When will we see the first increase in the Fed Reference Rates?

On Thursday 23rd of April a breakfast seminar is organized in the office of BNP Paribas in Eindhoven. Thursday afternoon a seminar including lunch will be held at the restaurant and seminar location 'In Den Rust Wat' in Rotterdam. Friday the 24th of April another breakfast seminar will take place in the BNP Paribas office in Amsterdam.
On this website you can register for this event, view the schedule and see route information. Use the menu on top of the page for these functionalities.
With kind regards,
BNP Paribas & DACT
Foreign Exchange and Interest Rate Market Update Sessions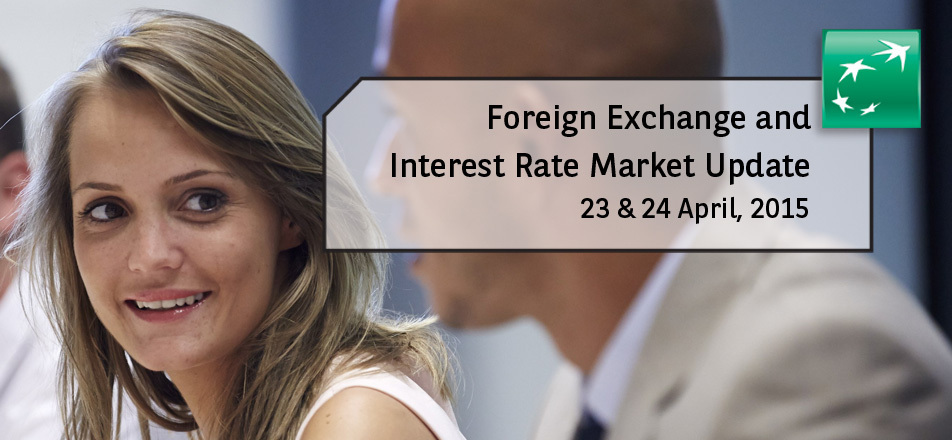 Registration website for Foreign Exchange and Interest Rate Market Update Sessions
Communications department BNP Paribasbnpparibas.communications.nl@bnpparibas.com
Communications department BNP Paribasbnpparibas.communications.nl@bnpparibas.com
2015-04-23
2015-04-24
Foreign Exchange and Interest Rate Market Update SessionsForeign Exchange and Interest Rate Market Update Sessions0.00EUR
Hotel New YorkHotel New YorkKoninginnehoofd 1 3072 AD Rotterdam Netherlands