North Sea Jazz Kids - Sunday 5 July
Next to North Sea Jazz, BNP Paribas invites you , your partner, your children and/or grandchildren for North Sea Jazz
North Sea Jazz Kids is a jazz festival especially designed for children. The BNP Paribas Foundation supports this festival in order to increase the enthusiasm amongst children for jazz in a fun and creative way.
This 1-day North Sea Jazz Kids festival in the Rotterdamse Schouwburg(Rotterdam) promises to be a fun and exciting day full of music!
Glimpse of the theater group Oorkaan is a musical theater for toddlers from 2 years and up where musicians, music, image, technique and a special audience enter into friendship.
The duo SOjazz with Sergio Abdul Rahman (Piano, 13 years) and Olivier van Niekerk (Jazz guitar, 12 years), will give a performance in the lobby. The duo is one of the winners of the Princess Christina Competition in 2014.
In the interactive presentation MILE (S)TONES of Zonzo Company, for children from 6 years and up, drummer Simon Segers, pianist Fulco Ottervanger(Both from The Bears Vultures) and trumpeter Bert Bernaerts take the audience into the fascinating world of the legendary American jazz composer and trumpeter Miles Davis. For the same age there is an active Percussion & Dance workshop leaded by Carlos Rocha and drummer /percussionist Greg Smith. In this workshop children will learn on a playful way to plays rhythms on pots and buckets and to dance to it!!
In the foyer of the theater children can draw the whole day on live music and will discover the beautiful color of
Rotterdamse Schouwburg
Schouwburgplein 25
3012 CL Rotterdam
On the registration form you can find different times to choose from, depending on your preference. Please note that North Sea Jazz Kids is a Dutch speaking program.
North Sea Jazz Saturday 11 July 2015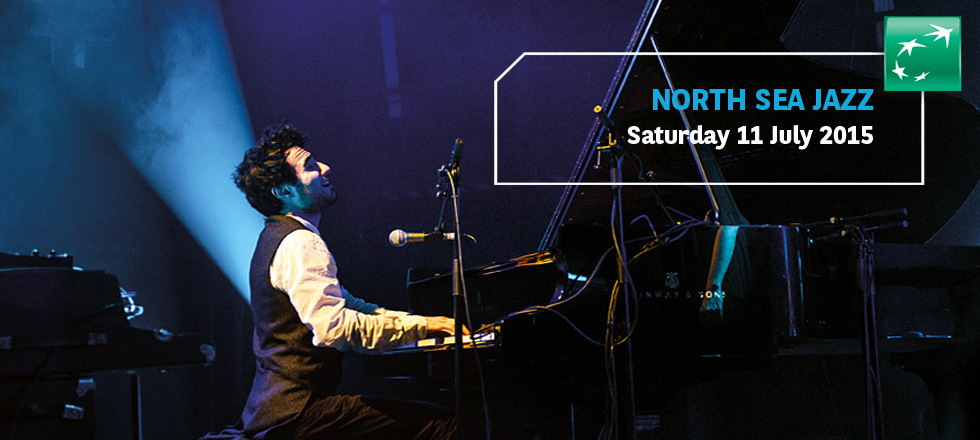 Registration website for North Sea Jazz Saturday 11 July 2015
BNP Paribasbnpparibas.communications.nl@bnpparibas.com
BNP Paribasbnpparibas.communications.nl@bnpparibas.com
2015-07-11
2015-07-11
North Sea Jazz Saturday 11 July 2015 North Sea Jazz Saturday 11 July 2015 0.00EUROnlineOnly2019-01-01T00:00:00Z
Rotterdamse SchouwburgRotterdamse SchouwburgSchouwburgplein 25 3012 CL Rotterdam Netherlands