Welcome to the website of 
Winter School on Quantitative Analysis of Medical Images
Noordwijk, The Netherlands, February 24-26, 2016

In a three-day-programme, six lecture teams of renowned scientists give introductory and in-depth lectures on the following topics:
• In vivo optical imaging e.g. by optical coherence tomography and hyperspectral imaging
coordinated by Johannes de Boer (VU University Amsterdam)
• Positron emission tomography and tracer kinetic modelling
coordinated by Adriaan Lammertsma (VU University Medical Center)
• MRI how does it work and why is it useful in the clinic?
coordinated by Aart Nederveen (Academic Medical Center)
• Extracting quantitative information from EEG and MEG
by Jan de Munck (VU University Medical Center)
• Imaging and treatment planning with CT in radiotherapy
coordinated by Uulke vd Heide (Netherlands Cancer Institute)
A poster session and a social evening are scheduled to foster discussions and to encourage collaboration.
Winterschool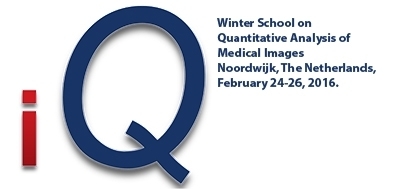 Registration website for Winterschool
Jetty Stam, AMCsecretariaatbmep@amc.uva.nl
Jetty Stam, AMCsecretariaatbmep@amc.uva.nl
2016-02-24
2016-02-26
WinterschoolWinterschool0.00EUROnlineOnly2019-01-01T00:00:00Z
Hotel de Witte RaafHotel de Witte RaafDuinweg 117 2204 AT Noordwijk Netherlands