North Sea Jazz Kids - Sunday 2 July
Next to North Sea Jazz, BNP Paribas invites you, your partner, your children and/or grandchildren for North Sea Jazz Kids on at the Rotterdamse Schouwburg on Sunday 2 July.
North Sea Jazz Kids is a jazz festival especially designed for children. The BNP Paribas Foundation supports this festival in order to increase the enthusiasm amongst children for jazz in a fun and creative way. It's always a fun and exciting day full of music!

Program
Timbalooloo by Oran Atkin  Timbalooloo founder Oran Etkin is an internationally renowned jazz and world music artist who also gives concerts for kids at major venues and festivals around the world. He and his band take the audience on an interactive, musical journey around the world. This show is for children from 2 years and older.
Slumberland What is that dark no man's land called 'sleep'? How can you be completely sure that the 'dreamworld' is not the real earth? Or that we are not simply dreaming that we are waking up? In any case, everything you see during the day returns in your dreams, but inside out!
Slumberland is a breathtaking film-like musical journey into the world of the night. The point at which everything is overturned and the dream outstrips reality. Children from 6 years and older are welcome!
Do you also want to learn to play the trombone? Just follow this workshop and you get to learn the first steps from Mr. P-Bones! The workshop is for children between 6 and 10 years old
In the Percussion & Dance workshop by Carlos Rocha and drummer /percussionist Greg Smith children will learn in a playful way to plays rhythms on pots and buckets. They'll play together and of course also dance to it! This workshop is for children between 6 and 12 years old.
And discover the workshops Radio Kast (4+), RadioLab (8+) and Speelafspraak (6+)!
In the foyer of the theater children can draw the whole day on live music and will discover the beautiful color of music.
Location
Rotterdamse Schouwburg
Schouwburgplein 25
3012 CL Rotterdam
On the registration form you sign up for the different shows and workshops of North Sea Jazz Kids. When you click 'register' the program of NSJ Kids will appear below.
 Please note that North Sea Jazz Kids is a Dutch speaking program.
North Sea Jazz Friday 7 July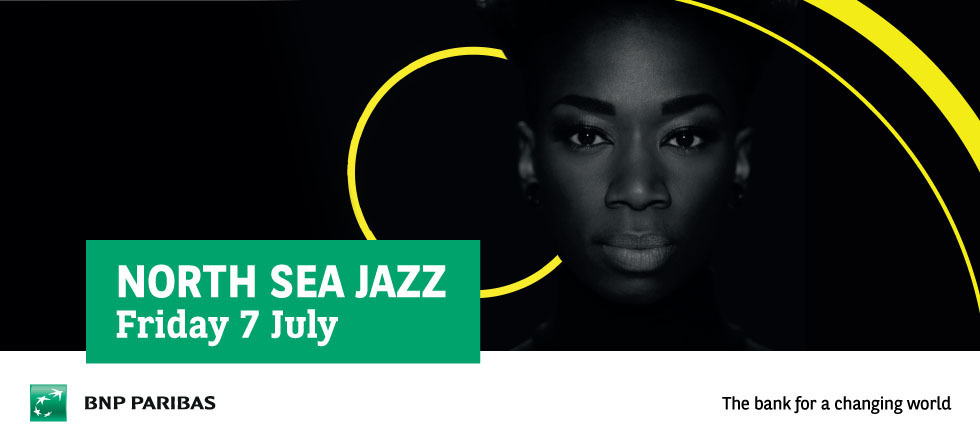 Registration website for North Sea Jazz Friday 7 July
BNP Paribas Communications bnpparibas.communications.nl@bnpparibas.com
BNP Paribas Communications bnpparibas.communications.nl@bnpparibas.comhttps://www.aanmelder.nl/94111
2017-07-07
2017-07-07
OfflineEventAttendanceMode
EventScheduled
North Sea Jazz Friday 7 JulyNorth Sea Jazz Friday 7 July0.00EUROnlineOnly2019-01-01T00:00:00Z
Ahoy RotterdamAhoy RotterdamAhoyweg 10 3082 BA Rotterdam Netherlands