Dear Guest,
Thank you for accepting our invitation to attend this great jazz event. We are honored to welcome you.
 
Tickets
You will have access to the festival through the special Birdland VIP-entrance. This entrance is located left of the entrance next to Ahoy Plaza and will be opened on Friday from 18.00 to 20.30 hrs. At the BNP Paribas desk you can pick up your concert tickets and your VIP wristband. After ticket control you can follow the signs directing you to the Birdland VIP area. We look forward to meeting you in our BNP Paribas VIP lounge.
Program
Naturally, you are free to visit any concert of your choice! On the following link you can find the complete program: progam North Sea Jazz Friday 7 July
Between 18.30 and 21.00 hrs a walking dinner will be served in our VIP lounge and during the evening there will be special appearances in the Birdland VIP area. The time and artist will however be announced at the last moment.
18.00 hrs                               Opening Ahoy and Birdland VIP area
18.30 hrs                               Start walking dinner
20.00 hrs                               Word of welcome BNP Paribas
20:30 hrs                               Plus concert Steve Winwood
21.00 hrs                               End walking dinner
01.00 hrs                               End of program
Plusconcert
Steve Winwood - For more than five decades, Steve Winwood has remained a primary figure in rock 'n' roll, a respected innovator who has helped to create some of the genre's most celebrated achievements. Winwood burst into prominence in 1963 with the Spencer Davis Group and since that time his celebrated skills as a composer, vocalist, and multi-instrumentalist have developed an impressive catalog of popular music. 
Many honors have been bestowed on Steve Winwood. He is a recipient of the Ivor Novello Outstanding Song Collection and the Musicians Union Classic Rock Award—honors both voted for by his peers.  He has also received honorary Doctorate Degrees in Music from Berklee College Of Music, Aston University in his hometown of Birmingham, England; and from The University of Gloucestershire. While rightfully acknowledged for his many achievements, Steve Winwood forges ahead undaunted, continuing to create and perform new and exciting material.  He remains one of the most important and influential artists in all of popular music.
Tickets for these concerts can be picked up in our 'BNP Paribas VIP lounge'.

Traffic & Parking
To avoid traffic jams we highly recommend you to leave in time. You can find route details with your VIP parking ticket.
The parking ticket offers you access to the VIP parking area. Place the parking ticket visibly behind your front window. Your VIP ticket needs to be visible for the police and parking management, so they will be able to direct you to the special VIP parking route which is closed for regular guests. When you enter the parking, parking management will collect your parking ticket.

Important
Because of expected large crowds around Ahoy, signs will be placed to direct visitors to different parking lots. Do not follow these signs; please follow the route indicated on your VIP parking ticket. The VIP parking is opened from 14.00 hours.

Dress code
The dress code for the event is smart casual.

More information
You'll find more information on the North Sea Jazz Festival at www.northseajazz.com.
Should you have any questions with regards to the program of North Sea Jazz Festival, please contact Annemieke Plantinga on telephone number: 088 738 03 04. For questions on the day of the festival please contact Annemieke Plantinga on her mobile telephone number: 06 20 33 23 80 or Mirjam de Vos on her mobile telephone number: 06 29 60 27 65. We advise you to bring these numbers to the festival, just in case.
We wish you a great evening and are looking forward to welcoming you at the festival!
With kind regards,
BNP Paribas Communications Department
North Sea Jazz Friday 7 July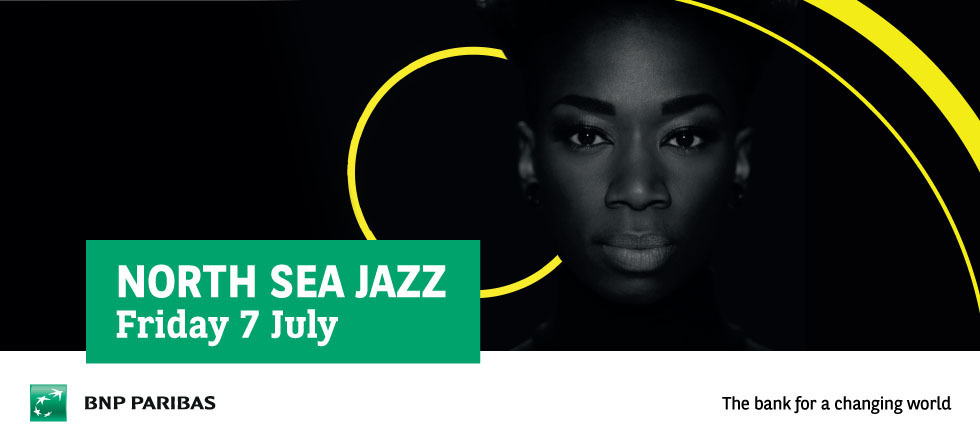 Registration website for North Sea Jazz Friday 7 July
BNP Paribas Communications bnpparibas.communications.nl@bnpparibas.com
BNP Paribas Communications bnpparibas.communications.nl@bnpparibas.comhttps://www.aanmelder.nl/94111
2017-07-07
2017-07-07
OfflineEventAttendanceMode
EventScheduled
North Sea Jazz Friday 7 JulyNorth Sea Jazz Friday 7 July0.00EUROnlineOnly2019-01-01T00:00:00Z
Ahoy RotterdamAhoy RotterdamAhoyweg 10 3082 BA Rotterdam Netherlands