Dear guest,
Thank you for accepting our invitation to attend this great jazz event. We are honored to welcome you and your partner.
On this page you'll find practical details on parking, tickets, route description, program and plus concerts.
Parking ticket
In your confirmation mail you can find the parking ticket attached in a PDF. Please print this ticket and place it behind the window of your car.
Tickets
You will have access to the festival through the special Birdland VIP-entrance. This entrance is located left of the entrance next to Ahoy Plaza and will be opened on Saturday from 16.30 to 20.30 hrs. At the BNP Paribas desk you can pick up your concert tickets and your VIP wristband. After ticket control you can follow the signs directing you to the Birdland VIP area. We look forward to meeting you in our BNP Paribas VIP lounge.
Program
Naturally, you are free to visit any concert of your choice! On the following link you can find the complete program: progam North Sea Jazz Saturday 8 July
Between 18.00 and 21.00 hrs a walking dinner will be served in our VIP lounge and during the evening there will be special appearances in the Birdland VIP area. The time and artist will however be announced at the last moment.
16.30 hrs                               Opening Ahoy and Birdland VIP area
18.00 hrs                               Start walking dinner
18.00 hrs                               Plus concert Norah Jones
19.30 hrs                               Word of welcome BNP Paribas
21.00 hrs                               End walking dinner
22:30 hrs                               Plus concert Herbie Hancock
01.00 hrs                               End of program
Plusconcert
18:00 hrs - Norah Jones
9-time GRAMMY winner vocalist and pianist Norah Jones developed a unique blend of jazz and traditional vocal pop, with hints of bluesy country and contemporary folk, due in large part to her unique upbringing. She comes full circle with Day Breaks, her stunning sixth solo album which is a kindred spirit to the singer's breakout debut Come Away With Me and finds Norah returning to the piano and her roots. The album features jazz luminaries including her Blue Note label mates saxophonist Wayne Shorter, organist Dr. Lonnie Smith, and drummer Brian Blade.
22:30 hrs  - Herbie Hancock
Herbie Hancock is a true icon of modern music. Throughout his explorations, he has transcended limitations and genres while maintaining his unmistakable voice. With an illustrious career spanning five decades and 14 Grammy Awards, including Album of the Year for River: The Joni Letters, he continues to amaze audiences across the globe.
There are few artists in the music industry who have had more influence on acoustic and electronic jazz and R&B than Herbie Hancock. As the immortal Miles Davis said in his autobiography, "Herbie was the step after Bud Powell and Thelonious Monk, and I haven't heard anybody yet who has come after him."
Tickets for these concerts can be picked up in our 'BNP Paribas VIP lounge'.
Traffic & Parking
To avoid traffic jams we highly recommend you to leave in time. You can find route details with your VIP parking ticket.
The parking ticket offers you access to the P-VIP parking area. Place the parking ticket visibly behind your front window. Your VIP ticket needs to be visible for the police and parking management, so they will be able to direct you to the special P-VIP parking route which is closed for regular guests. When you enter the parking, parking management will scan the QR code on your parking ticket and collect it.
Important
Because of expected large crowds around Ahoy, signs will be placed to direct visitors to different parking lots. Do not follow these signs; please follow the route indicated on your parking voucher. The VIP parking is opened from 14.00 hours.
Dress code
The dress code for the event is smart casual.
More information
You'll find more information on the North Sea Jazz Festival at www.northseajazz.com.
Should you have any questions with regards to the program of North Sea Jazz Festival, please contact Annemieke Plantinga on telephone number: 088 738 03 04. For questions on the day of the festival please contact Annemieke Plantinga on her mobile telephone number: 06 20 33 23 80 or Mirjam de Vos on her mobile telephone number: 06 29 60 27 65. We advise you to bring these numbers to the festival, just in case.
We wish you a great evening and are looking forward to welcoming you at the festival!
With kind regards,
BNP Paribas Communications Department
North Sea Jazz Saturday 8 July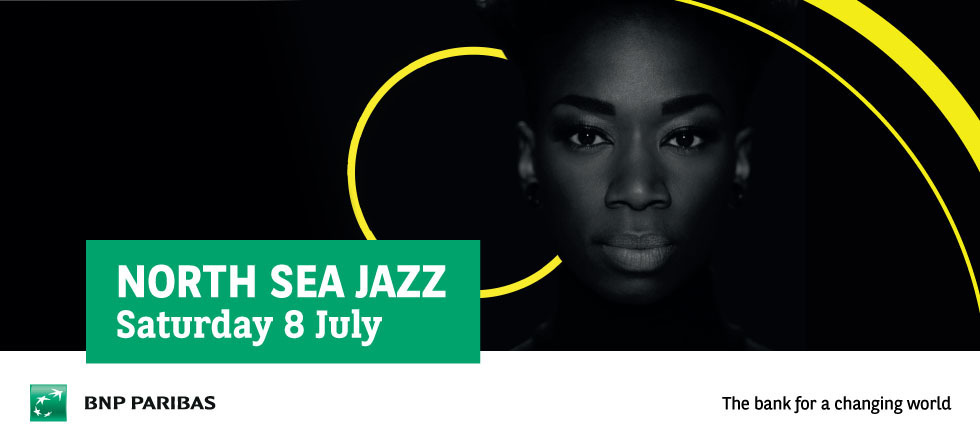 Registration website for North Sea Jazz Saturday 8 July
BNP Paribas Communicationsbnpparibas.communications.nl@bnpparibas.com
BNP Paribas Communicationsbnpparibas.communications.nl@bnpparibas.com
2017-07-08
2017-07-08
North Sea Jazz Saturday 8 July North Sea Jazz Saturday 8 July 0.00EUROnlineOnly2019-01-01T00:00:00Z
Ahoy RotterdamAhoy RotterdamAhoyweg 10 3084 BA Rotterdam Netherlands