About
The Amsterdam Symposium on the History of Food is the annual international point of assembly and an exchange of knowledge in the field of the food history in the Netherlands. It intends to stimulate debate and research that bridges the gap between different disciplines. Another aim is to transfer academic research to a wider public and stimulate research using the  collections of the University of Amsterdam. The symposium is therefore targeted at both an academic and a professional audience.
Organizing Committee
IJsbrand van Dijk;  Antonia Mazel; Joke Mammen; Jon Verriet; Ingrid de Zwarte
Advisory Board
Prof. Dr. Ir. Louise O. Fresco; Mrs. Claudia Roden; Prof. Dr. Peter Scholliers; Prof. Dr. Irene E. Zwiep.
Partners

Allard Pierson
The Allard Pierson preserves and maintains the academic heritage of the University of Amsterdam. There are over a thousand sub-collections, comprising rare and valuable books, manuscripts, prints, photographs and much, much more. The collections serve educational and research purposes but are also there for the general public.
Amsterdam School of Historical Studies, University of Amsterdam
The Amsterdam School of Historical Studies (ASH) is a research institute of the Faculty of Humanities of the University of Amsterdam. The institute focuses on culture and history. Research is organized both along thematic lines (religion, the city, theatre, conflict, medicine), and in terms of periods in time (e.g. the classical period, the Middle Ages, the Renaissance, the Golden Age, the contemporary period), which are studied from an interdisciplinary perspective (art, history, literature, music, theatre, etc.).
Social & Cultural Food Studies (FOST) of the Vrije Universiteit Brussel
FOST is a research group for social and cultural food studies at the Vrije Universiteit Brussel. The research group, founded in April 2003, works in collaboration with the Vlaams Centrum voor Volkscultuur, the Institut Européen de l'Histoire de l'Alimentation and the Institut National de Recherche Agronomique.
FOST aims at consolidating the expertise on foodstudies by inviting (foreign) specialists to workshops and colloquia, by operating within networks, by publishing and contemplating about food studies, and by performing new (multidisciplinary) food research.
Amsterdam Symposium on the History of Food 2019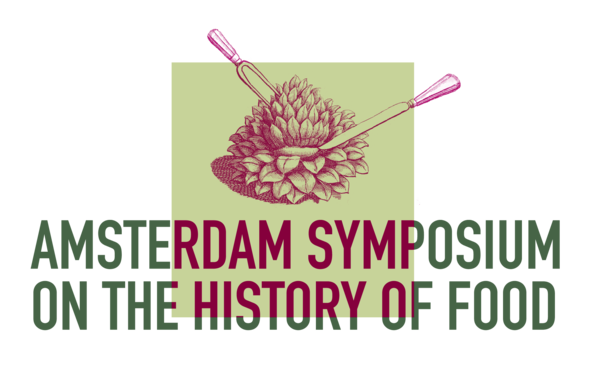 Registration website for Amsterdam Symposium on the History of Food 2019
Amsterdam Symposium on the History of Food 2019info@aanmelder.nl
Amsterdam Symposium on the History of Food 2019info@aanmelder.nlhttps://www.aanmelder.nl/ashf2019
2019-11-15
2019-11-16
OfflineEventAttendanceMode
EventScheduled
Amsterdam Symposium on the History of Food 2019Amsterdam Symposium on the History of Food 20190.00EUROnlineOnly2019-01-01T00:00:00Z
University of AmsterdamUniversity of AmsterdamSpui 1071DN Amsterdam Netherlands