For those who are also attending the HandOn Biobanks Conference the days following the BioShaRE event, your hotel can be prebooked through the HOBB 2015 registration portal. 
For those who are only attending the BioSHaRE event on July 28th, please make hotel arrangements yourself. Using the booking code "bioshare", you may book rooms at the following three hotels:

ARCIMBOLDI - € 219,00 incl. breakfast
Address: V.le Sarca, 336 
Contact: reservation@hotelarcimboldi.it
VILLA TORRETTA - € 200,00 incl. breakfast
Address: Via Milanese, 3
Contact: info@villatorretta.it
STARHOTELS TOURIST- € 179,00 incl. breakfast
Address: V.le Fulvio Testi, 300
Contact: reservations@starhotels.it
Hotel cancellation policy for attendees: open cancellation and reservation change until 30/04/15. From May 1st 2015 100% stay will be charged on credit card given as guarantee of reservation. 
BioSHaRE Tool Roll-out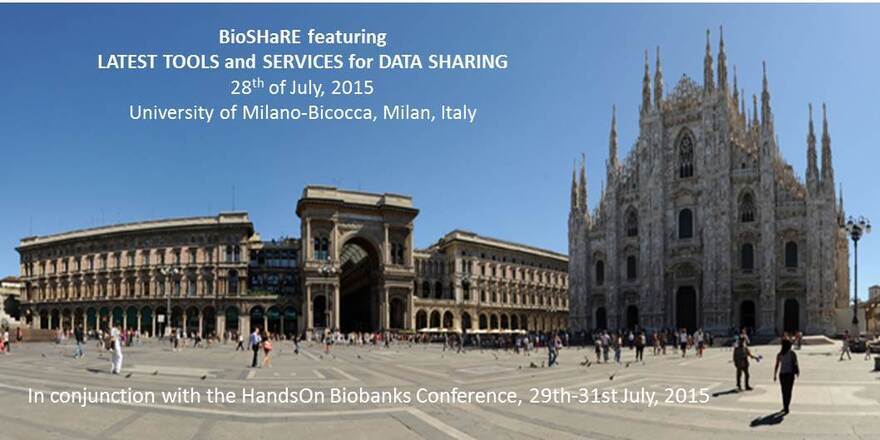 Registration website for BioSHaRE Tool Roll-out
Anina Bjørnhaugansb@fhi.no
Anina Bjørnhaugansb@fhi.no
2015-07-28
2015-07-28
BioSHaRE Tool Roll-outBioSHaRE Tool Roll-out0.00
Università degli Studi BicoccaUniversità degli Studi BicoccaBuilding U6, Piazza dell'Ateneo Nuovo, 1