Why Greater Rotterdam?
The Netherlands as a Delta region
The Netherlands' geographic location and rich history in water management have fostered its natural specialization in water, maritime, offshore and (industrial and medical) biotech. West Holland, also known as the delta region, is the region where all of this comes together as an extensive industrial cluster. Universities such as TU Delft, testing facilities like the Test & Demonstration Area Port of Rotterdam, the Bioprocess Testing Facility, Green Village, and Plant One, and leading companies such as DSM, Du Pont, Cargill, Eneco and Siemens make West Holland the landing spot for cleantech companies that are ready to enter not only the Dutch, but European market in its totality. 
What is the Greater Rotterdam Area?
The Greater Rotterdam Area is located in the province of Zuid-Holland (West Holland), and encompasses the cities of Rotterdam, Delft, and The Hague, as well as 20 other municipalities in the region. The region is part of a larger urban area called the Randstad. The Randstad is a megalopolis consisting of the 4 largest Dutch cities, and is home to 8.2 million inhabitants, making up almost half of the Dutch population. Among others, it contains the Port of Rotterdam (the largest seaport in Europe) and Schiphol Airport (third-largest European Airport). This makes the region extremely attractive for foreign businesses, as it provides a gateway to not just the Netherlands, but Europe as a whole. 
Sustainable Energy in 2050
The Netherlands has set a goal to have an almost complete supply of sustainable energy in 2050. In order to reach this goal, investments in Solar, Off- and Onshore Wind, Bio Energy, and sustainable heat are now being implemented, as well as loading infrastructure for EV, autonomous transport, and intelligent traffic systems. The Netherlands is focused on sharing pragmatic solutions through international collaboration.
BOSterDAM Cleantech Link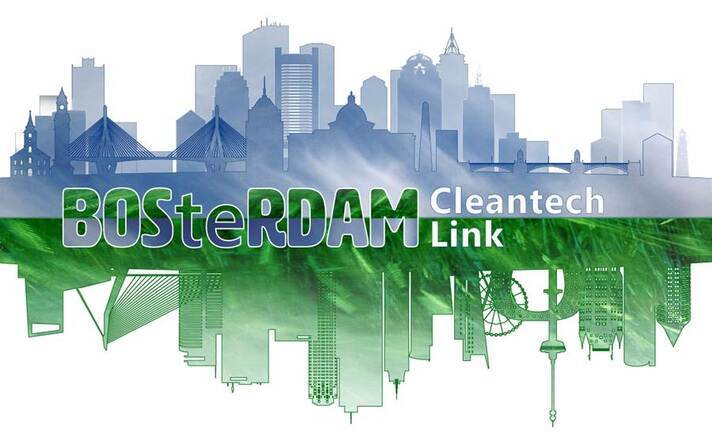 Registration website for BOSterDAM Cleantech Link
BOSterDAM Cleantech Linkevents@innovationquarter.nl
BOSterDAM Cleantech Linkevents@innovationquarter.nlhttps://www.aanmelder.nl/bosterdamcleantech/subscribe
2019-07-01
2019-07-01
OfflineEventAttendanceMode
EventScheduled
BOSterDAM Cleantech LinkBOSterDAM Cleantech Link0.00EUROnlineOnly2019-01-01T00:00:00Z
To be announced
To be announced