BZ-Strategiedagen 2022: "A Heated World"

Van 24 januari t/m 4 februari 2022 vindt de derde editie van de BZ-Strategiedagen plaats. Op 24 januari is de openingssessie met SG Paul Huijts. In de twee weken daarna volgen meer dan twintig (digitale) evenementen, uiteenlopend van discussies met internationale topsprekers tot een workshop over data en strategie, en natuurlijk de uitreiking van het Gouden Toetsenbord voor het meest strategische BZ-bericht van 2021 en de bekendmaking van de winnaar van de BZ Impact Challenge. Samen activeren we in inspirerende sessies onze collectieve denkkracht en treden we even uit de beruchte waan van de dag.
Het doel van de strategiedagen is het strategisch vermogen van het ministerie van Buitenlandse Zaken te vergroten, door middel van een goede combinatie van inhoudelijke en praktische sessies die collega's in de gehele organisatie aanspreken. Alle medewerkers van BZ en de posten zijn uitgenodigd om deel te nemen. Sommige sessies zijn daarnaast ook voor collega's van andere ministeries en samenwerkingspartners toegankelijk.
Het overkoepelend thema van deze editie is: A Heated World. Deels gaat dit thema over klimaatverandering, en deels over de overdrachtelijke verhitting van de internationale verhoudingen waarvan we de impact dagelijks kunnen zien in ons werk. De grote vraag is hoe de toekomst van deze verhitte wereld eruit ziet. Wat kan Nederland doen? Waar zijn we op de goede weg? Wat kan en moet beter? En hoe moet BZ zich ontwikkelen om onze doelstellingen te behalen? Deze en andere vragen komen aan de orde tijdens de BZ-Strategiedagen 2022.
Tijdens het programma zal o.a. aandacht worden besteed aan thema's als geopolitieke competitie, economische veiligheid en handelsbeleid, het versterken van ons mensenrechtenbeleid, resilience in het defensie- en veiligheidsdomein, techdiplomatie, diversity of thought en uiteraard klimaatbeleid.
---
BZ Strategy Days 2022: "A Heated World"

The third edition of the BZ Strategy Days will take place from 24 January 24 to 4 February 2022. We will start on 24 January with an opening session with SG Paul Huijts. During the following two weeks, more than twenty (digital) events will take place, ranging from discussions with top international speakers to a workshop on data and strategy, and of course the presentation of the "Gouden Toetsenbord" for the most strategic BZ-bericht of 2021, as well as the announcement of the winner of the BZ Impact Challenge. We hope to activate our collective thinking power in inspiring sessions and reserve some time to take the long view.
The aim of the Strategy Days is to increase the strategic capacity of the Ministry of Foreign Affairs by means of a good combination of substantive and practical sessions that appeal to colleagues throughout the organisation. All BZ colleagues at the missions and the Ministry are invited to participate. Some sessions will also be accessible to colleagues from other ministries and partners.
Overarching theme this year: "A Heated World". Our world is heating up, in more ways than one. Partially this is about climate change, and partially about the heated and contested arena of international relations and diplomacy. During the programme, attention will be paid to themes such as geopolitical competition, economic security and trade policy, strenghtening our human rights policy, resilience in the domain of security and defence, tech diplomacy, diversity of thought and of course climate policy.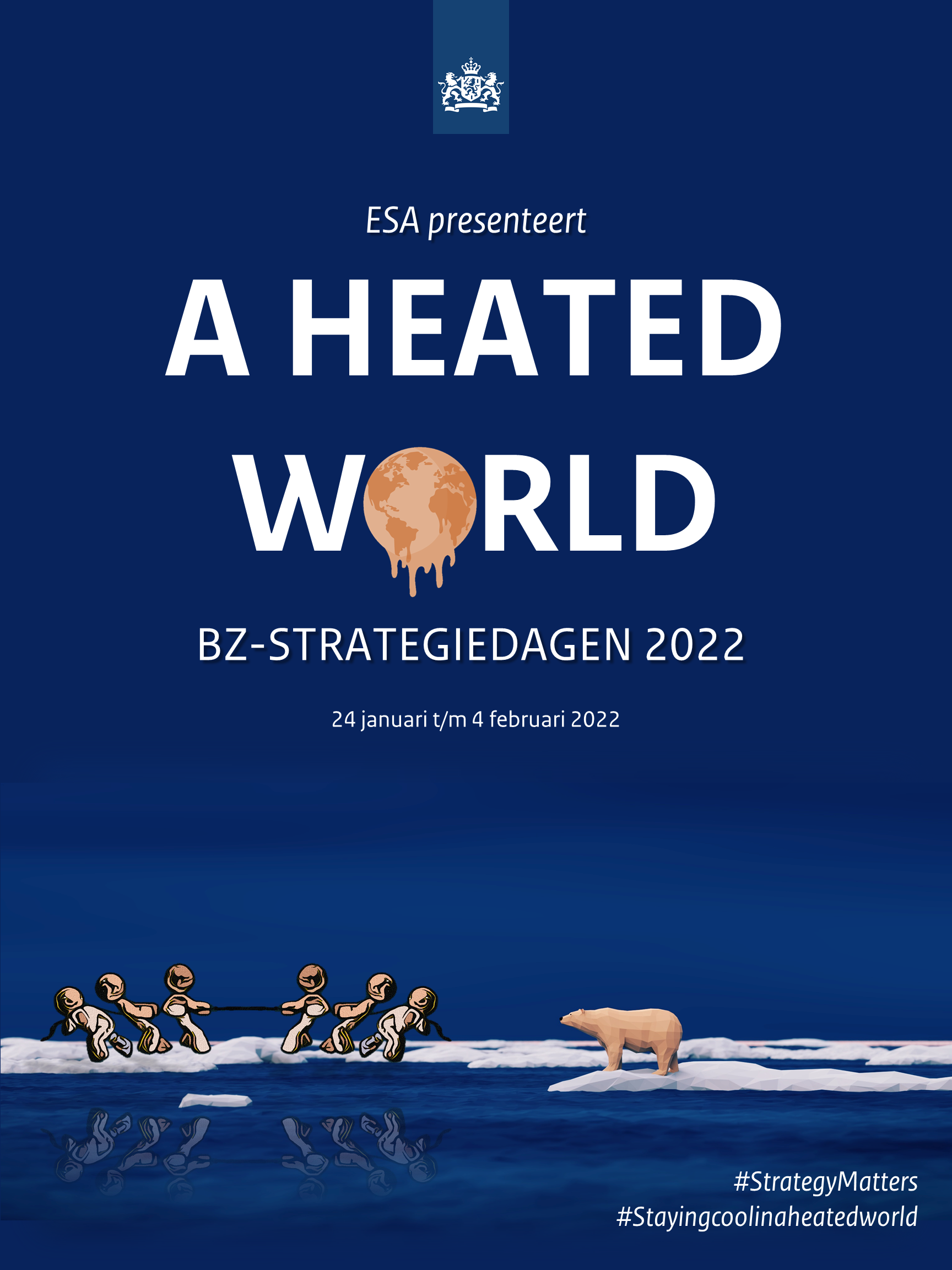 BZ Strategiedagen 2022

Registration website for BZ Strategiedagen 2022
BZ Strategiedagen 2022bzstrategiedagen@sharedbusiness.nl
BZ Strategiedagen 2022bzstrategiedagen@sharedbusiness.nlhttps://www.aanmelder.nl/bzstrategiedagen2022
2022-01-24
2022-02-04
OfflineEventAttendanceMode
EventScheduled
BZ Strategiedagen 2022BZ Strategiedagen 20220.00EUROnlineOnly2019-01-01T00:00:00Z
To be announced
To be announced