Het programma / The programme

Hier vind je het totaalprogramma van de BZ Strategiedagen 2022 en een beschrijving van de individuele events.
---
Below you will find the complete programme of the BZ Strategy Days 2022 and the information for the individual events.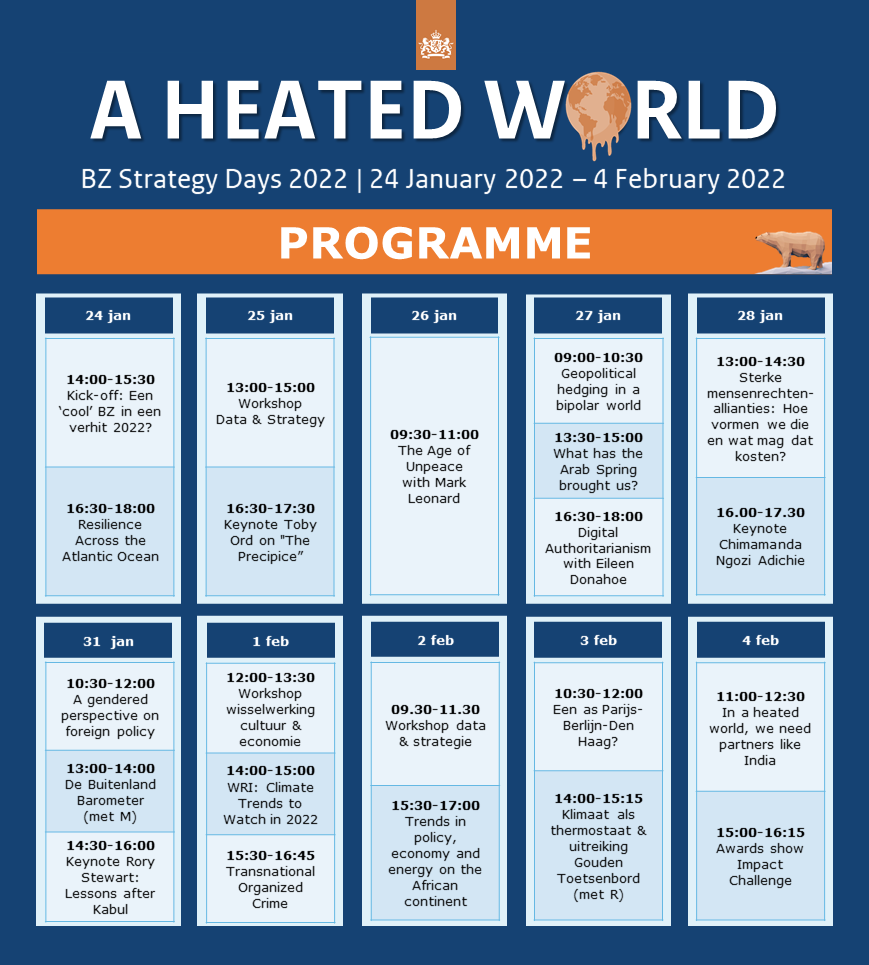 ​​Klik hier om het programma te downloaden. Click here to download the programme.

Maandag 24 januari 2022 / Monday 24 January 2022

1. Kick-off: Een 'cool' BZ in een verhit 2022?
Tijd: 14:00-15:30
Taal: Nederlands
Registratie open voor: Rijksbreed
Samen met SG Paul Huijts, Monika Sie Dhian Ho (algemeen directeur Instituut Clingendael), René Cuperus (Clingendael en AIV) en Tim Sweijs (directeur onderzoek HCSS) wordt, om het motto van het nieuwe regeerakkoord te gebruiken, vooruitgezien naar de toekomst. Welke gebeurtenissen, uitdagingen en kansen kunnen zich in 2022 in de wereld voordoen? Hoe moeten Nederland en de EU zich hierop voorbereiden? Wat betekent dit voor de BZ-organisatie? Nadat de sprekers hierop zijn ingegaan zal er gelegenheid zijn hier met collega's in Den Haag en op de posten over van gedachten te wisselen.
---
2. Resilience Across the Atlantic Ocean
Time: 16:30-18:00
Language: English
Registration open for: participants from all Dutch ministries
Geopolitical shifts and changing threats require us to strengthen our own resilience and that of our allies. It is not surprising that resilience features high on the agenda at NATO, EU and the national level. Resilience is pre-eminently a theme where EU-NATO cooperation can be valuable, especially when it comes to shared objectives and standards. The question is: across the Atlantic Ocean, do we think alike about geopolitical resilience and its implementation, or do we have completely different thoughts? NATO has experience with planning and monitoring processes, the EU has resources and regulatory power. On the surface there seems to be willingness at both organizations to further collaboration on this theme, but in practice this is less obvious. How can we strengthen cooperation between the EU and NATO?
With Hester Somsen (Deputy National Coordinator for Counterterrorism and Security – NCTV), Jean-Pierre van Aubel (EEAS Defence Policy and Strategy expert), Professor Dan Hamilton (Johns Hopkins School of Advanced International Studies), and Bartjan Wegter (Deputy Permanent Representative to NATO). Moderator: Joost Flamand, Director Security Policy.
Dinsdag 25 januari 2022 / Tuesday 25 January 2022

3. Workshop Data & Strategy
Time: 13:00-15:00
Language: English
Registration open for: participants from the MFA
Registration closed: the maximum number of participants for this workshop has now been reached.
In this workshop, participants learn how data can be used for strategic policy questions. In the framework of Early Warning Early Action (EWEA), DVB and the Data Competence Centre BZ (DCC) are developing products that help formulate better strategy in the field of security policy. Participants will learn, through examples, how the Ministry of Foreign Affairs uses data to improve policy and strategy. In this interactive workshop, participants will have the opportunity, under the guidance of data scientists from the DCC, to develop their own strategic questions for which data can provide support. The most promising questions will be further developed in a follow-up project together with the DCC.
Have you always been curious how data can contribute to better strategy formation? Then sign up now!
---
4. Keynote Toby Ord on his book "The Precipice: Existential Risk and the Future of Humanity"
Time: 16:30-17:30
Language: English
Registration open for: participants from all Dutch ministries and partners
Australian philospher Toby Ord (Oxford University) became famous as the founder of the effective altruism movement. In his latest book, "The Precipice" (2020), he develops the concept of existential risk. With the advent of nuclear weapons, humanity entered a new age, gaining the power to destroy ourselves, without the wisdom to ensure we won't. Since then, these dangers have only multiplied, from climate change to engineered pandemics and unaligned artificial intelligence. If we do not act fast to reach a place of safety, it may soon be too late.
The Precipice explores the science behind the risks we face. It puts them in the context of the greater story of humanity: showing how ending these risks is among the most pressing moral issues of our time. And it points the way forward, to the actions and strategies we can take today to safeguard humanity's future.
This session will delve into this concept of existential risk, and what we as the Dutch MFA can and should do about it – inspiring us to take the (really) long view.
Woensdag 26 januari 2022 / Wednesday 26 January 2022

5. The Age of Unpeace: Netherlands as a trade nation in an era of geopolitical battlegrounds
Time: 09:30-11:00
Language: English
Registration open for: participants from all Dutch ministries
In this session, author Mark Leonard (co-founder European Council on Foreign Relations) will talk about his recent book The Age of Unpeace, and the lessons we could draw from it for the Netherlands. Leonard argues that whereas for a long time Western democratic countries thought they could spread democracy in other parts of the world, that image has changed. Infrastructure and globalization were meant to bring people together and unity to the world. However, hyper connectivity is currently being used to weaponize globalization. Trade is also increasingly being used as a tool in geopolitical battlegrounds. In response, according to Leonard, we need to 'disarm connectivity' and put 'healthy boundaries' between countries. What does this all mean for trade policy and how to manage our trade relations in the Age of Unpeace? These questions will be discussed in this session, with participation from Deputy DGBEB Peter Potman and Director IMH Caroline Kollau.
Donderdag 27 januari 2022 / Thursday 27 January 2022

6. Geopolitical hedging in a bipolar world: options for the EU, Russia and India
Time: 09:00-10:30
Language: English
Registration open for: participants from all Dutch ministries
A heated world translates into an increasingly bipolar world order with the US and China engaged in a battle for geopolitical and geo-economic hegemony. For other players, this poses some fundamental questions how to position themselves between these two major powers. The EU is more closely connected to the US, but would still have some room to develop constructive relations with China. On the other hand, Russia is more closely connected to China, but also wants to hedge against too much Chinese dominance, including by developing its own good relations with other Asian powers, like India. India itself is hedging against Chinese dominance, by developing good relations with Russia, the US and the EU (which attempts to develop its own footprint in the Indo-Pacific). Where does this take us? Which options are available for hedging and balancing powers to enhance stability and continue developing good trade relations? And what perspectives could be identified for cooperation between these players, like EU-Russia, EU-India or Russia-India?
Speakers:
Dr. Thomas Gomart (Director of the French Institute of International Relations, IFRI);
Dr Alexander Gabuev (Carnegie Moscow Center);
Prof. dr C. Raja Mohan (National University Singapore, Institute of South Asian Studies).
---
7. What has the Arab Spring brought us?
Time: 13:30-15:00
Language: English
Registration open for: participants from all Dutch ministries
There is a commonly held belief that the Arab Spring has been in vain as authoritarian regimes still thrive in the MENA region and civic space is shrinking rather than expanding. Not exactly the new political order and social contract that the youth that led the massive uprisings of 2011 had in mind! Nonetheless, one of the key slogans of the Arab Spring, madaniya, meaning civil state or civilisation, lives on – until today – in youth subcultures and also in several intellectual, political and even religious circles. Arabist and jurist Laila Al-Zwaini, in collaboration with a number of Arab students in the Netherlands, will touch upon the origins of madaniya and will shed light on its manifestations today. What instruments – if any – do we have in our foreign policy toolkit to give a boost to this movement so that the ideals of freedom and justice for all will be realised?
---
8. Digital Authoritarianism on the rise: How to protect democratic values in the digital age?
Time: 16:30-18:00
Language: English
Registration open for: participants from all Dutch ministries
Technology has the promise of democratizing societies. Today, however, digital technologies such as artificial intelligence are increasingly being used to strengthen authoritarian governance models worldwide. At the same time, countries like China and Russia are actively shaping international technology standards. As a result, democratic values and human rights are under increased pressure in the digital age. What can democracies, and the MFA in particular, do to counter the rise of digital authoritarianism? In this session keynote speaker Eileen Donahoe, professor at Stanford and former US ambassador to the UN human rights council, will share her valuable insights.
Vrijdag 28 januari 2022 / Friday 28 January 2022

9. Sterke mensenrechten-allianties: Hoe vormen we die en wat mag dat kosten?
Tijd: 13:00-14:30
Taal: Nederlands
Registratie open voor: BZ-medewerkers
Wereldwijd groeit de invloed van autocratische landen, ook op het (multilaterale) vlak van mensenrechten. Recente ontwikkelingen, zoals de effectieve Saudische lobby tegen de Jemen-resolutie in de VN-Mensenrechtenraad, laten zien dat strategische en tactische inzet nodig is om autocratische tendensen tegen te gaan en mensenrechten wereldwijd te beschermen. Tijdens deze sessie gaan verschillende Nederlandse ambassadeurs, waaronder in enkele van die autocratische landen, met elkaar in gesprek. We bespreken wat Nederland kan doen om de universele mensenrechten te blijven te beschermen en de groep van landen die deze rechten actief ondersteunt te vergroten. Centraal daarbij staat de vraag hoe zich dit verhoudt tot andere Nederlandse belangen. Welke prijs zijn wij bereid om te betalen voor onze MR-inzet? Meld je nu aan en denk mee!
---
10. Chimamanda Ngozi Adichie on Africa's position in the 21st century
Time: 16:00-17:30
Language: English
Registration open for: participants from all Dutch ministries
Keynote event with world-famous Nigerian novelist Ms. Chimamanda Ngozi Adichie. Africa is the continent of the future. The population is young and growing. That the continent will play a decisive role in future geopolitical relations and international developments is a fact. Which role does Africa have on the global stage? And how does the continent relate to other (geo)political powers?
In this session, Ms. Adichie will look ahead at the political and cultural developments in Africa, the modernisation of the continent and its current opportunities and challenges. What kind of actor is the African continent in the global (geo)political space? The stereotypical image of the African continent as a place for merely development cooperation is challenged. The session will provide inspiration as to how non-African countries can best position themselves on the African continent to engage in equal cooperation and support shared values. Thanks to Ms. Adichie's storytelling experience it will be easy to identify with her cultural approach. The session will not only look at what should be done differently, but also at how it could be done. The narratives that are set out offer tangents to the policy and position of the Ministry Foreign Affairs and the Dutch government as a whole.

Maandag 31 januari 2022 / Monday 31 January 2022

11. What can we learn from a gendered perspective on Foreign Policy?
Time: 10:30-12:00
Language: English
Registration open for: participants from all Dutch ministries and partners
A 'Feminist Foreign Policy' takes the view that sustainable peace, security and development will not be achieved as long as half of the world population is excluded. A 'Feminist Foreign Policy' – like that of Sweden – puts equality, inclusion, diversity, non-discrimination and rights, transforming of traditional power structures and intersectionality front and central.
With Beatrice Fihn (Executive Director of the International Campaign to Abolish Nuclear Weapons) and (to be confirmed) Wanjira Mathai (Regional Director for Africa at WRI). Our speakers will dive into what a 'gendered approach' to nuclear non-proliferation would look like and what would an 'intersectional' international climate policy entails.
Moderator: Ambassador for Women's Rights and Gender Equality Pascalle Grotenhuis.
---
12. De Buitenland Barometer: Waar ligt de Nederlandse burger wakker van? (met M)
Tijd: 13:00-14:00
Taal: Nederlands
Registratie open voor: Rijksbreed
Hoe denken Nederlanders over het buitenlandsbeleid? Hoe versterken we de verbinding tussen binnen- en buitenland? Monika Sie Dhian Ho (algemeen directeur van Instituut Clingendael) zal op basis van nieuwe bevindingen van de Buitenland Barometer toelichten hoe er in de samenleving over buitenlandpolitieke vraagstukken wordt gedacht. Hierop wordt gereageerd door onze nieuwe minister, Wopke Hoekstra, en door de redactie van het Algemeen Dagblad. Aan ons de vraag: wat betekent dit voor het beleid en de wijze waarop we onze boodschap uitdragen?
---
13. Keynote Rory Stewart: Missions and interventions after the fall of Kabul
Time: 14:30-16:00
Language: English
Registration open for: participants from the Dutch MFA and invitees
Keynote event: What is the future of interventions and military missions? In conversation with Rory Stewart, erudite critic of the missions in Iraq and Afghanistan, and former DFID Minister, author, publicist, documentary maker and former British governor in Iraq and Afghanistan.
Dinsdag 1 februari 2022 / Tuesday 1 February 2022

14. Workshop: De wisselwerking tussen cultuur & economie (met ICE)
Tijd: 12:00-13:30
Taal: Nederlands
Registratie gesloten: het maximum aantal deelnemers voor deze workshop is bereikt.
De wereld en Nederland staan voor een aantal grote maatschappelijke opgaven. De pandemie, klimaatverandering en de gevolgen van globalisering moeten we met urgentie onder ogen zien. In deze sessie bespreken we hoe de creatieve industrie een bijdrage kan leveren aan het oplossen van de grote internationale opgaven waar we voor staan. Het EXPO paviljoen van Nederland in Dubai is een mooi voorbeeld. Ontworpen door kunstenaars laat het zien op welke wijze we inventief om willen gaan met water, innovatie en voedselvoorziening. Wat kan de creatieve industrie bijdragen aan verwezenlijking van de circulaire economie is de centrale vraag die we onszelf in deze sessie stellen. Tijdens deze interactieve workshop gaan we aan de hand van een keynote met elkaar in gesprek over hoe we deze verbindingen nog beter kunnen benutten in de toekomst.  
---
15. World Resources Institute: Climate Trends to Watch in 2022
Time: 14:00-15:00
Language: English
Registration open for: participants from all Dutch ministries
The science is unequivocal: climate change is one of the greatest challenges of our time, with great consequences for the future. What does climate change mean for the world in 2022? What developments will shape the world in the coming year? Are we on the threshold of a new era, characterised by a green industrial revolution?
In an inspiring presentation, President and CEO of the World Resources Institute, Ani Dasgupta, explores the global trends and emerging issues related to climate change, politics, economics, technology, biodiversity and more!
---
16. Transnational Organized Crime: from Underestimated to Undermining
Time: 15:30-16:45
Language: English
Registration open for: participants from all Dutch ministries
The new coalition agreement to form the government in the Netherlands gives a prominent position to combatting transnational organized crime in the Netherlands. This is a global problem with widespread transnational networks, such as in Europe (Western Balkan), Central Asia and the Western Hemisphere. The Netherlands cannot tackle this national and global problem without its international partners. Focus region for cooperation the coming years will be Latin America and the Caribbean, which like the Netherlands play an important part in production as well as trade and transport of drugs. At the same time it is important to cooperate with other partners in the Western Hemisphere like the USA. What is the state of play in Latin America and the Caribbean? Which initiatives have been taken recently by the NL in this regard? What is the role of the MFA and its embassies within the interdepartmental cooperation? With an introduction by Jeremy McDermott (Executive Director at InSight Crime).
We explicitly invite all those who deal with regions that face transnational crime.
Woensdag 2 februari 2022 / Wednesday 2 February 2022

17. Workshop data & strategie
Tijd: 09:30-11:30
Taal: Nederlands
Registratie open voor: BZ-medewerkers
In deze workshop leren deelnemers hoe data ingezet kan worden voor strategische beleidsvragen. In het kader van Early Warning Early Action (EWEA) ontwikkelen DVB en het Data Competence Centre BZ (DCC) producten die helpen bij betere strategievorming op het gebied van veiligheidsbeleid. Deelnemers leren aan de hand van voorbeelden te hoe binnen het ministerie van buitenlandse zaken data wordt ingezet voor beter beleid en strategie. In deze interactieve workshop krijgen deelnemers de kans om onder begeleiding van data scientists van het DCC zelf strategische vragen uit te werken waarbij data ondersteuning kan bieden. De meest kansrijke vragen zullen in een vervolgtraject samen met het DCC verder worden uitgewerkt.
Altijd al benieuwd hoe data kan bijdragen aan betere strategievorming? Meld je dan nu aan!
---
18. Transitions in a heated world: trends in policy, economy and energy on the African continent
Time: 15:30-17:00
Language: English
Registration open for: participants from all Dutch ministries
A keynote speech by Zainab Usman, Senior Fellow and Director of the Africa Program at the Carnegie Endowment for International Peace, discussing the recent developments and opportunities regarding emerging economies, energy policy and -transitions on the African continent. Which key trends does she identify for the near future? What role do (geo)political actors play in this? And how could the foreign policy of non-African nations, such as the Kingdom of the Netherlands, strategically support and invest in these emerging economies? Her talk inspires us to link the theme of "A Heated World", the topical climate- and sustainability agenda with the economic trends and opportunities on the continent.
Donderdag 3 februari 2022 / Thursday 3 February 2022

19. Een as Parijs-Berlijn-Den Haag?
Tijd: 10:30-12:00
Taal: Nederlands
Registratie open voor: BZ-medewerkers
Het nieuwe kabinet wil een leidende rol om de EU slagvaardiger, economisch sterker, groener en veiliger te maken. Hiervoor zijn bondgenoten nodig. Met het vertrek van het VK uit de EU, een nieuwe Duitse regering en Franse verkiezingen op komst is er alle reden om nog eens goed te kijken hoe Nederland deze ambitie kan waarmaken en wie ons daarbij kan helpen. Moeten we nog nauwer optrekken met Frankrijk en Duitsland? Waar lopen onze belangen met deze landen parallel en waar zullen we – wellicht met anderen – tegenwicht moeten bieden aan plannen die ons niet bevallen? Over deze en andere vragen gaan we het gesprek aan met onder meer onze ambassadeurs in Parijs en Berlijn, Pieter de Gooijer en Ronald van Roeden. Mathieu Segers zal de sessie introduceren.
---
20. Klimaat als thermostaat van een verhitte wereld & uitreiking Gouden Toetsenbord (met videoboodschap R)
Tijd: 14:00-15:15
Taal: Nederlands
Registratie open voor: Rijksbreed
De klimaatcrisis brengt grote strategische uitdagingen mee voor NL en BZ. Bijvoorbeeld op het gebied van mitigatie, adaptatie, maar ook groeiende ongelijkheid als gevolg van klimaatverandering. Maar het vraagt ook om aanpassing van ons buitenlandbeleid. Minister Liesje Schreinemacher zal dit high-level panel met een videoboodschap inleiden. Deelnemers aan het panel zijn prof. dr. Maarten van Aalst (Directeur International Red Cross Climate Centre), Stientje van Veldhoven (Vice President, World Resources Institute) en Rob Mulder (Directeur Beleid, VNO-NCW). In het panel brengen wij wetenschap, beleid en praktijk bijeen om een aantal van deze uitdagingen en kansen op gebied van klimaat en de NLse inzet voor de komende periode scherp te stellen.
Tijdens deze sessie zal tevens het Gouden Toetsenbord worden uitgereikt voor meest strategische BZ-bericht van 2021.
Vrijdag 4 februari 2022 / Friday 4 February 2022

21. In a heated world, we need partners like India
Time: 11:00-12:30
Language: English
Registration open for: participants from all Dutch ministries
By the year 2030, India will be the most populous country in the world, with the most college graduates, largest middle class, most mobile phone and internet users, second largest army and second economy globally. In 2030, the largest democracy in the world will have over 600 million people under the age of 25. There is no getting around India.
In a geopolitically changing world, the Netherlands and the EU need India and India needs the Netherlands and the EU. The aim of this session is to get more awareness about the position of India in the region, and to emphasize the importance of cooperation with India at bilateral, EU and multilateral level. Do we understand what the challenges are for India in the region and how we can anticipate? Can we put ourselves in each other's position? And does the EU's Indo-Pacific Strategy bring a new dimension to this relationship?
After an opening by Director Asia and Oceania Karin Mössenlechner, the following panel will address these questions:
Mr. Sandeep Chakravorty, Joint Secretary (Europe West) at the Ministry of External Affairs, Government of India
Dr. Garima Mohan, Fellow Asia Program at The German Marshall Fund of the United States
Dr. Constantino Xavier, Fellow in Foreign Policy and Security Studies at the Centre for Social and Economic Progress (CSEP)
The session will be moderated by Dr. Maaike Okano-Heijmans (Clingendael Institute).
---
22. Awards show Impact Challenge
Time: 15:00-16:15
Language: English
Registratie open voor: participants from the Dutch MFA and invitees
The first BZ Impact Challenge was launched during the ESA Strategy Days 2021, after which BZ staff from all over the organization (The Hague and missions) applied. In their teams the participants have attended workshops and have been guided in drafting ideas to increase the impact of the organization. During this session, the three final teams present their research and the plans they have developed. A jury consisting of representatives from BiND, ESA, OR, VeryBz and IDI will assess the plans. The audience is invited to comment and ask questions about the improvement plans. The jury will designate the winner of the Impact Challenge, after which the PSG will respond as representative of the Senior Management Board. The Impact Challenge shows what original, creative and smart ideas exist in the organization about making our work more impactful in order to make a positive contribution to Dutch society and the world around us.
BZ Strategiedagen 2022

Registration website for BZ Strategiedagen 2022
BZ Strategiedagen 2022bzstrategiedagen@sharedbusiness.nl
BZ Strategiedagen 2022bzstrategiedagen@sharedbusiness.nlhttps://www.aanmelder.nl/bzstrategiedagen2022
2022-01-24
2022-02-04
OfflineEventAttendanceMode
EventScheduled
BZ Strategiedagen 2022BZ Strategiedagen 20220.00EUROnlineOnly2019-01-01T00:00:00Z
To be announced
To be announced