Het programma / The programme

Programma/Programme

Hier vind je het totaalprogramma van de BZ Strategiedagen 2023 en een beschrijving van de individuele events.
---
Below you will find the complete programme of the BZ Strategy Days 2023 and the information for the individual events.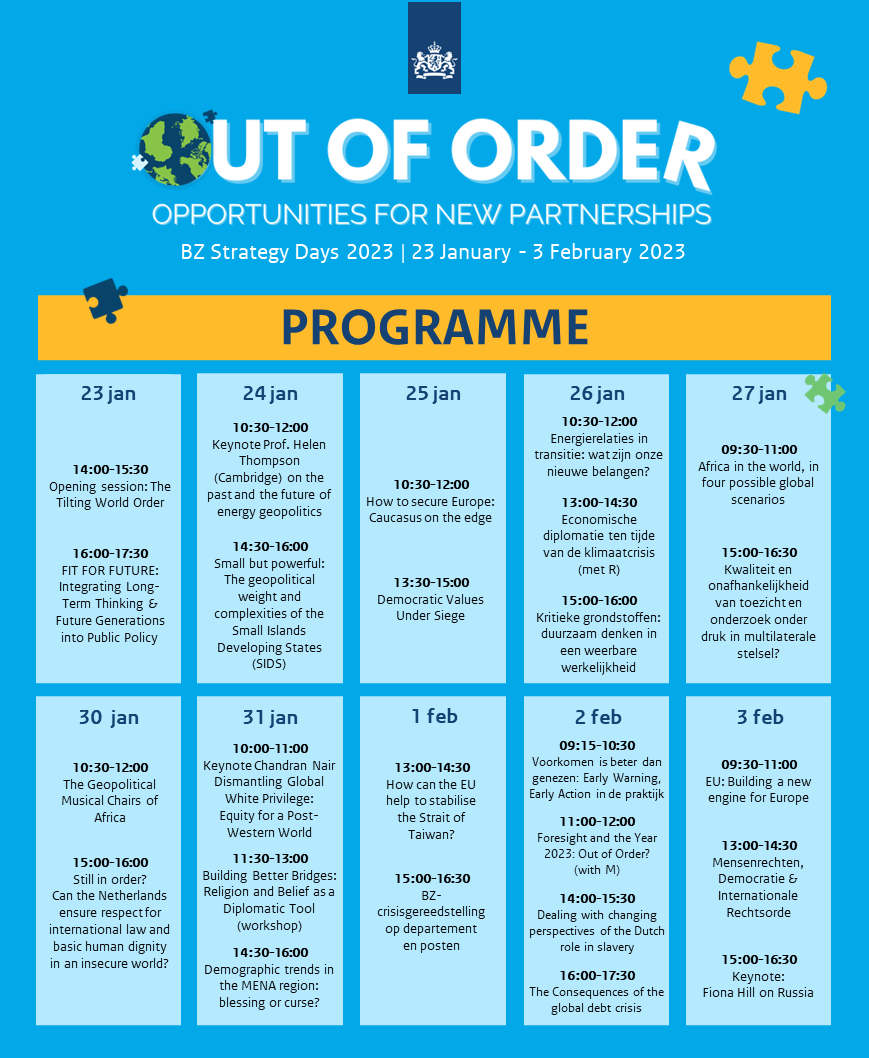 ​​Klik hier om het programma te downloaden. Click here to download the programme.

Let op: Alle tijden zijn Nederlandse tijd. / Please note: All times indicated are Dutch time.

Opnames / Recordings
 
De meeste sessies worden opgenomen. Wil je toegang tot de opname van een sessie, neem dan contact op met ESA@minbuza.nl.
---
Most events will be recorded. If you want access to the recording of one of the events, please contact ESA@minbuza.nl.

Maandag 23 januari 2023 / Monday 23 January 2023

1. Opening Session: The Tilting World Order
Time: 14:00-15:30
Language: English
Registration open for: participants from all Dutch ministries
Event: hybrid
What are the implications of the big geopolitical shifts for our foreign policy? How can we best reach out to other parts of the world and build broader partnerships in order to enlarge the shrinking space of the West from which we currently operate? Corien Prins, chair of the Scientific Council for Government Policy, will comment on their research trajectory about the "tilting world order" which is about the start. India's most watched conflict reporter, Geeta Mohan, will give her perspective on the global shifts taking place. Secretary-General Paul Huijts will reflect on what these developments mean for our ministry and the way we work.  
At the end of the session SG will hand out the "Golden Keyboard" to this year's winner of the most strategic cable.
With Paul Huijts, Corien Prins (WRR) and Geeta Mohan.
---
2. FIT FOR FUTURE: Integrating Long-Term Thinking & Future Generations into Public Policy
Time: 16:00-17:30
Language: English
Registration open for: participants from all Dutch ministries
Event: online
In the run-up to the UN Summit of the Future, the Kingdom of the Netherlands, together with Fiji, will be co-facilitating a UN Declaration on Future Generations. A unique opportunity to institutionalize the needs of future generations into public policy and governance. This builds on existing efforts to promote sustainable development, which the 1987 Brundtland Commission defined as 'meeting the needs of the present without compromising the ability of future generations to meet their own needs'. Taking the interest of future generations seriously is therefore key to achieving the Sustainable Development Goals (SDGs) agreed in 2015.
But, what do we do as the Netherlands ourselves?  The Netherlands is taking steps, among other things, through the youth initiative for the use of a Generational Test. However, the elephant in the room is the political question: how to reconcile a future-oriented agenda aimed at long-term impact with systems that reward short-term political/economic gains?

Together with government officials, academia and future experts we will discuss and practice the different paths that can be taken to embed long-term considerations into public policy and governance to sustainably address the global challenges we face today. Limited spots will be available for this workshops session.

Opening by Joke Brandt, Permanent Representative to the United Nations.
Speakers: Sophie Howe, Tamaisha Eytle, Freija van Duijne.
Dinsdag 24 januari 2023 / Tuesday 24 January 2023

3. Keynote Prof. Helen Thompson (Cambridge) on the past and the future of energy geopolitics
Time: 10:30-12:00
Language: English
Registration open for: participants from all Dutch ministries
Event: Online
On the fateful date of 24 February 2022, Prof. Helen Thompson, an eminent economic historian from Cambridge University, published her book "Disorder: Hard Times in the 21st Century". In this keynote session, Prof. Thompson will share the main insights of her book, which covers the past and future of the geopolitics of energy. Many aspects of the West's energy predicament in the 20th century are still relevant today. What are the prospects for the energy transition for the West in the coming years? What patterns of competition and new fault lines are likely to arise? And how can history help us see what the problems and solutions are? These questions and more will be addressed in this keynote address.
---
4. Small but powerful: The geopolitical weight and complexities of the Small Islands Developing States (SIDS)
Time: 14:30-16:00
Language: English
Registration open for: participants from all Dutch ministries
Event: Online
SIDS are facing a complexity of issues. Not only are they 'out of order' because highly vulnerable to climate change, they are also economically vulnerable due to their dependence on one or two sectors, namely tourism and off-shore banking. Due to the COVID pandemic, these countries have been hit hard, because tourism collapsed. The war in Ukraine has further exacerbated this situation through inflation and increased prices for raw materials and energy. At the same time, these countries do not always have access to UN or other ODA support when they are middle-income countries. However, the limited population size, great inequality within these countries and the enormous investments that have to be made for climate adaptation mean that they desperately need these funds. That is why the UN initiated a study into a Multidimensional Vulnerability Index (MVI), which these countries could possibly use. grant access to ODA. The outcome of this political discussion is still uncertain. In addition, the SIDs are increasingly agitated when it comes to responsibility for climate change, as evidenced by the UN resolution submitted by Vanuatu for an advisory opinion from the International Court of Justice on climate and human rights; and an active role in the ICC regarding the introduction of criminalization of ecocide. With 38 countries, the SIDS are an important voice in the UN. With increasing international tensions and geopolitical strife, these traditionally European-bound countries are often an important ally, whilst located in Asia, Africa and Latin America. The session addresses the following issues: What are the specific problems SIDS struggle with, and what obstacles do they face in solving them? Is there sufficient conformity between SIDS for a common approach? Is the EU doing enough?  How does the West ensure that we align with SIDS countries in multilateral negotiations? What is being done by other geopolitical powers and multilateral institutions and how does the EU position itself?
Speakers:
H.E. Ms. Rabab Fatima, High Representative of the United Nations for the least developed countries, landlocked developing countries and small island developing states (UNOHRLLS)

H.E. Mr. Odo Tevi, Permanent Representative of the Republic of Vanuatu to the United Nations

Prof. dr. Rosemarijn van Hoefte (Royal Netherlands Institute of Southeast Asian and Caribbean Studies, KIITLV)

Moderator: Dr. Dorine van Norren, Strategic Advisor (North and South America and Caribbean)
Woensdag 25 januari 2023 / Wednesday 25 January 2023

5. How to secure Europe: Caucasus on the edge
Time: 10:30-12:00
Language: English
Registration open for: participants from all Dutch ministries
Event: Online
Russia's invasion of Ukraine has led to shock-effects in other regions as well. Power relations are shifting, opening opportunities for other geopolitical players – like China, Iran and Turkey – to challenge the current regional order. As Russian influence diminishes, the EU and NATO could rise to the occasion to contain Russia, and possibly others, on the edges of the European continent, including the Southern Caucasus. Georgia, Armenia and Azerbaijan are all reconsidering their security interests and partnerships. Can the long-standing protracted conflicts blocking their path to closer European and trans-Atlantic partnerships be solved?
Speakers:
Ms. Tinatin Khidasheli, Chairperson of the Georgian think tank 'Civic IDEA'; former Minister of Defence of Georgia

Mr. Richard Giragosian, Founding Director of the Armenian thinktank 'Regional Studies Center (RSC)'; former consultant for the European Union Delegation to Armenia;

Dr. Farid Shafiyev, Chairperson of the Azerbaijani think tank 'Center of Analysis of International Relations (AIR Center)'; former Ambassador of Azerbaijan to Canada and to the Czech Republic.
Moderator:
Bob Deen, Senior Research Fellow Clingendael Institute
---
6. Democratic values under siege: American elections, European parliamentary perspectives and Feminist Foreign Policy
Time: 13:30-15:00
Language: English
Registration open for: participants from all Dutch ministries
Event: Online
Attempts to roll back women's rights are part of a larger trend: pushback against human rights and democracy. This session will discuss what the Netherlands and the European Union (EU) should do to prevent erosion of democratic values, and how a Feminist Foreign Policy (FFP) can feature in this. In 2022, the Dutch Government decided to implement an FFP which is currently being formulated.
Speakers:
Opening: Pascalle Grotenhuis (Ambassador for women's rights and gender equality)

Keynote address: Neil Datta (Executive Director, European Parliamentary Forum for Sexual and Reproductive Rights)

Respondent: Alexis McGill Johnson (President & CEO, Planned Parenthood Federation of America)

Closing remarks: Bahía Tazib-Lie (Mensenrechtenambassadeur)
Donderdag 26 januari 2023 / Thursday 26 January 2023
 
8. Energierelaties in transitie: wat zijn onze nieuwe belangen?
Tijd: 10:30-12:00
Taal Nederlands
Toegankelijk voor: Rijksbreed
Event: Online
De huidige energiesector is out of order. De sector is verantwoordelijk voor 75%(!) van de CO2 emissies die leiden tot klimaatverandering, en de noodzakelijke transitie komt maar langzaam op gang. De huidige geopolitieke context vraagt om versnelling, maar zet ook de schijnwerper op leveringszekerheid en betaalbaarheid van de huidige energievoorziening. Ondertussen lukt het mondjesmaat om in multilaterale instellingen de handen op elkaar te krijgen voor de benodigde transitie, terwijl het komend decennium de laatste kans biedt om de wereldwijde opwarming tot anderhalve graad te beperken. Welke veranderingen zien we voor ons? Hoe verschuiven onze belangen? En hoe kan Nederland daar het best op inspelen?
In deze sessie gaan we in gesprek met topwetenschapper Heleen de Coninck en verschillende CdPs.
---
9. Economische diplomatie ten tijde van de klimaatcrisis (met R)
Tijd: 13:00-14:30
Taal Nederlands
Toegankelijk voor: Rijksbreed
Event: Hybride
We zitten midden in de klimaatcrisis en de oorlog in Oekraïne heeft geleid tot een energiecrisis en torenhoge inflatie. Hoe geven we in deze tijden vorm aan handelsbevordering? Dirk-Jan Koch, chief science officer van BZ, gaat hierover in gesprek met Irene Visser van Atradius DSB, Lara Yocarini van de Rabobank en onze huidige Consul-Generaal in Milaan, Mascha Baak. Welke transformatie is gaande, met name als het gaat om de inzet op energie en landbouw? Waar zitten de uitdagingen, hoe ga je in dat kader om met de 'traditionele' sectoren én hoe maak je onderscheid tussen greenwashing en daadwerkelijke verduurzaming? Deze vragen en meer komen ter sprake in deze sessie. De Minister voor Buitenlandse Handel en Ontwikkelingssamenwerking, Liesje Schreinemacher, opent de sessie en sluit deze af.
---
10. Kritieke grondstoffen: duurzaam denken in een weerbare werkelijkheid
Tijd: 15:00-16:00
Taal Nederlands
Toegankelijk voor: Rijksbreed
Event: Online
De oorlog in Oekraïne heeft pijnlijk duidelijk gemaakt hoe afhankelijk Nederland en Europa zijn van één (Russische) bron voor energie. Tegelijkertijd is er voor onder andere digitalisering, defensie en de productie van hernieuwbare energietechnologie een (grotere) behoefte aan mineralen en metalen zoals lithium en kobalt waarvoor er ook een potentieel leveringsrisico bestaat. Dit worden daarom kritieke grondstoffen genoemd. De (kritieke) grondstoffenwinning en raffinage zijn sterk geografisch geconcentreerd, terwijl het voor economische weerbaarheid juist belangrijk is om niet meer van slechts één partij afhankelijk te zijn. Zo neemt China strategische posities in binnen buitenlandse mijnen (bv. in Latijns-Amerika en Afrika). Dit maakt ons geopolitiek kwetsbaar. Dr. Benjamin Sprecher van de TU Delft zal in deze sessie schetsen waar we nu staan en wat de uitdagingen zijn die nog komen. Vervolgens zullen BZ Plv. DGBEB Peter Potman en EZK Directeur Europese en Internationale Zaken Heleen Bakker een korte beleidsreactie geven aan de hand van de nieuw ontwikkelde nationale Grondstoffenstrategie en de aankomende EU Critical Raw Materials Act.
Vrijdag 27 januari 2023 / Friday 27 January 2023
 
11. Africa in the world, in four possible global scenarios
Time: 09:30-11:00
Language: English
Registration open for: participants from all Dutch ministries
Event: Online
Are you curious to know more about the future of Africa? About how the global context and different possible future scenarios influence its development potential? Then join this session, in which we will review global trends and then present four global scenarios, asking what the 'development ceiling' for Africa is in a 1) Sustainable World, 2) a Divided World, 3) a World at War and 4) a Growth World. During this interactive session, Jakkie Cilliers will present the latest report from think tank ISS (Institute for Security Studies) about the future of Africa, after which there is plenty of time to ask him everything you want to know about the future of Africa. Don't miss this opportunity and join us!
Main speaker: Jakkie Cilliers is the founder and former executive director of the Institute for Security Studies. He currently serves as chair of the ISS Board of Trustees and head of the African Futures and Innovation (AFI) programme at the Pretoria office of the ISS. His 2017 best-seller Fate of the Nation addresses South Africa's futures from political, economic and social perspectives. His two most recent books, Africa First! Igniting a Growth Revolution (March 2020) and The Future of Africa: Challenges and Opportunities (April 2021), take a rigorous look at the continent as a whole.
---
12. Kwaliteit en onafhankelijkheid van toezicht en onderzoek onder druk in multilaterale stelsel?
Tijd: 15:00-16:30
Taal Nederlands
Toegankelijk voor: Rijksbreed
Event: Online
Toen Nederland (PVVN) voorzitter was van de governing board van UNOPS bleek dat de problemen bij de organisatie (o.a. financieringsschandaal) mede zo groot zijn geworden door het ontbreken van een veilige werkomgeving. Hierdoor was lage meldingsbereidheid waardoor de problemen langer door konden woekeren. 
Daarnaast vertrok (alweer) een chief economist van de Wereldbank, en deze keer mede omdat de onafhankelijkheid van haar onderzoekers werd aangetast, waaronder een Nederlander werkzaam bij de Wereldbank. Ook lijken een aantal van de evaluatiediensten van de VN er moeite mee te hebben om tijdig en diepgravend genoeg onderzoek te doen om grote schandalen rondom haar programma's te voorkomen, zo blijkt uit (Nederlandse) klokkenluiders bij deze organisaties. Staat de onafhankelijk van onderzoek bij de internationale instellingen in toenemende mate onder druk? Wat kan hier aan gedaan worden?
Sprekers:
Joke Brandt (PVVN)

Prof. dr. Bob Rijkers (Senior Economist, Wereldbank)

Frank Klinckenberg (onafhankelijk evaluator)
Moderator:

Maandag 30 januari 2023 / Monday 30 January 2023

13. The Geopolitical Musical Chairs in Africa
Time: 10:30-12:00
Language: English
Registration open for: NL MFA internal (colleagues in The Hague and at Embassies only)
Event: Online
Over the last decades, the geopolitical situation on the African continent has been rapidly changing. New actors such as China have been increasingly active in Africa. In addition, the relationship between Africa and both the Netherlands and the EU as a whole has been changing as well. As such, it is important for BZ to try and make sense of this new situation and formulate a new strategic perspective on Africa. This session tries to aid this process by bringing together multiple speakers who will present the perspectives of different actors on these geopolitical musical chairs. Our moderator, Jelte van Wieren (Director of the Sub-Saharan Africa Department) will present multiple statements regarding the geopolitical future of Africa. Our speakers, Murithi Mutiga (Program Director Africa, International Crisis Group), Chloe Teevan (head of ECDPM's digital economy and governance team) and Stacey Links (Universiteit Leiden) will react to these statements from an African, European and Chinese perspective respectively. After this, there is room for the audience to react themselves and create a dialogue.
---
14. Still in order? Can the Netherlands ensure respect for international law and basic human dignity in an insecure world?
Time: 15:00-16:00
Language: English
Registration open for: participants from all Dutch ministries
Event: Online
One-quarter of humanity – 2 billion people – are living in conflict areas today. Many of them suffer due to wilful undermining of and disrespect for human rights law, humanitarian law and refugee law. At the same time, many continue to rely on international law for their protection and basic human dignity.
What are the perspectives for securing human dignity in an insecure world? And how can the Netherlands – through its foreign and development policy – contribute to their relevance, adherence and tangible protection of civilians affected by war and armed conflict? What can and should the Netherlands do better, and (how) do domestic discussions on rule of law and protection (Ter Apel, Toeslagenaffaire) impact the effectiveness of Dutch diplomatic efforts?
These questions will be discussed in an interactive session, moderated by Deputy Director International Cooperation Birgitta Tazelaar. We will speak with Peter Maurer, who recently stepped down as president of ICRC. In this position he operated for a decade on the front lines of humanitarian diplomacy, engaging with anyone from heads of state to leaders of local armed groups. We will also speak with Faryaneh Fadaeiresketi, who is the Deputy Regional Director MENA at Geneva Call.
Dinsdag 31 januari 2023 / Tuesday 31 January 2023

15. Keynote by Chandran Nair: Dismantling Global White Privilege: Equity for a Post-  Western World
Time: 10:00-11:00
Language: English
Registration open for: participants from all Dutch ministries
Event: Online
Chandran Nair, Founder and CEO of the Global Institute for Tomorrow, will talk about his uncompromising book in which he argues that the belief in the superiority of White people and Western culture, once the driving force behind imperialism, is now woven into the very fabric of globalization. He will give specific suggestions for breaking the power of White privilege to create a post-Western world that has less conflict, is more united, and is better able to respond to the existential challenges facing all of us. Deputy Secretary-General Carola van Rijnsoever will give a reflection on the ideas put forward by Nair and the way that the Netherlands tries to deal with global challenges and some of the issues he raises.
With Chandran Nair and Carola van Rijnsoever.
---
16. Building Better Bridges: Religion and Belief as a Diplomatic Tool (workshop)
Time: 11:30-13:00
Language: English
Registration open for: NL MFA internal (colleagues in The Hague and at Embassies only)
Event: Online
Religious literacy is an important tool in an effective diplomatic toolkit. 82% of the current world population would describe themselves as being religious, which makes knowledge about the practical use of religious language and religious leaders of essential importance when understanding the frame of reference of your interlocutor, or when trying to build bridges. Key questions that this workshop will deal with are: Which trends do we see in the operationalization of religion and belief in foreign policy? And: How can we as diplomats utilize religion and belief as a tool in our daily work?  
Speakers:
Christina Maasdam and Stephanie Joubert (Mensen met een Missie)

Mark Hengstman (Embassy Jakarta) and Gabriëlle Scholten (DAO)
---
17. Demographic trends in the MENA region: blessing or curse?
Time: 14:30-16:00
Language: English
Registration open for: participants from all Dutch ministries
Event: Online
Demographic developments in MENA, a region consisting of countries with all too often ever younger populations against the backdrop of ever older powerholders, present authoritarian rulers with daunting challenges. In that context, out of order does not mean broken, but it does mean distorted.
Where are the jobs for the masses of youngsters entering the labour market every year? How can stability be maintained when the rift between old-fashioned elites and tech-savvy youth keeps on growing? What societal changes are on the horizon when females are claiming their socio-economic and political rights? And what does all this mean for our MENA policy in years to come?
After a mentimeter quiz, UNFPA and civil society speakers from the region will delve into these grand questions. There will be ample time for debate.
Speakers:
Ms Sherin Saadallah (UNFPA - Cairo)

Ms Sanam Vakil (Chatham House - London)

Mr Raheil Aziz (SPARK - Erbil)

Mr Matt Herbert

(Global Initiative against Transnational Organised Crime - Malta)
Woensdag 1 februari 2023 / Wednesday 1 February 2023

18. How can the EU help to stabilise the Strait of Taiwan?
Time: 13:00-14:30
Language: English
Registration open for: NL MFA internal (colleagues in The Hague and at Embassies only)
Event: Online
The status quo in the Strait of Taiwan has long remained unchanged. No more. The current trajectory of China-US relations, particularly concerning Taiwan, is more than worrisome. As President Biden has already announced four times, the US will defend Taiwan in case of a Chinese invasion. The visit of Nancy Pelosi last summer, and the subsequent Chinese military exercises around the island, shows that tensions are rising. This panel discussion therefore focuses on the question how the EU can be a force for stability and de-escalation in the region?'
Speakers:
Ingrid d'Hooghe (moderator), Clingendael

Patricia Kim (panelist), Brookings Institution, Washington DC

Meia Nouwens (panelist), International Institute for Strategic Studies (IISS), London

Sense Hofstede (panelist), National University of Singapore (NUS)
---
19. BZ-crisisgereedstelling op departement en posten
Tijd: 15:00-16:30
Taal Nederlands
Toegankelijk voor: BZ-intern
Event: Online
De val van Kaboel. Covid-19. De oorlog in Oekraïne. Een gewapende machtsgreep in Burkina Faso. Anti-regime protesten in Iran. De veranderende wereldorde maakt dat BZ zich steeds vaker geconfronteerd ziet met geopolitieke en andersoortige grootschalige crises, zoals terroristische aanslagen, cyberaanvallen en natuurrampen. Dergelijke crises, die elke post kunnen treffen, eisen van BZ een snelle, adequate en goed gecoördineerde respons. Zowel Den Haag als het postennet moeten aan de slag om ervoor te zorgen dat BZ zo goed mogelijk is voorbereid. Daarom gaan we in deze interactieve sessie in gesprek over de crisisgereedstelling van BZ. PSG Carola van Rijnsoever en de centrale crisiscoördinator Jacco Bos trappen af met een toelichting op de agenda en de instrumenten voor onze crisisgereedstelling. Vervolgens vertellen twee CdP's over hun persoonlijke ervaring met recente crises. Aan de hand van een aantal prikkelende stellingen volgt hierna een discussie met het publiek over de verwachtingen en de behoeften van Den Haag en van de posten ten aanzien van onze crisisgereedstelling. Er is dus ruim gelegenheid voor jou als deelnemer om mee te praten over dit onderwerp, dat in de komende jaren alleen maar in belang zal toenemen. Aarzel niet en schrijf je in!
Donderdag 2 februari 2023 / Thursday 2 February 2023

20. Voorkomen is beter dan genezen: Early Warning, Early Action in de praktijk
Tijd: 09:15-10:30
Taal Nederlands
Toegankelijk voor: BZ-intern
Event: Online
Early warning, early action. Het klinkt simpel: als je vroeg signaleert waar conflicten uit kunnen breken, dan kun je eerder in actie komen om het conflict vroegtijdig te beslechten. Juist in een wereld die in snel tempo verandert. Maar wanneer en hoe signaleer je dan 'tijdig' dat het mis gaat? En hoe zet je dit dan om in een actie? En wat is dan een actie? En nog belangrijker: hoe werkt dat bij BZ? Op deze vragen gaat Bob Deen, BN'er tegen wil en dank, nader in, samen met collega's van DVB en het Data Competence Centre. Bob heeft jaren op dit thema gewerkt voor de OVSE, en deelt graag zijn ervaringen. Is early warning voor jouw werk relevant? Zorg dan dat je bij deze sessie bent.
---
21. Foresight and the Year 2023: Out of Order? (with M)
Time: 11:00-12:00
Language: English
Registration open for: participants from all Dutch ministries
Event: Hybrid
During the launch of this new ESA-foresight product, we will look at the main trends and events that could shape 2023. Understanding those is vital for delivering on our foreign policy priorities and to identify opportunities for new partnerships. This horizon scan has been established with input from almost 100 colleagues around the world. We will discuss the findings with Minister Wopke Hoekstra and Florence Gaub (Visiting Professor at the College of Europe, and Founder and President of think tank Futurate Institute). Then, we will open to floor to BZ-colleagues in The Hague and at our missions abroad to share their thoughts and insights.
---
22. Dealing with changing perspectives of the Dutch role in slavery
Time: 14:00-15:30
Language: English
Registration open for: NL MFA internal (colleagues in The Hague and at Embassies only) and invitees
Event: Online
During the commemoration year in 2023, we will reflect on the history of slavery throughout the Kingdom. This occurs 150 years after the actual abolition of slavery in the then Dutch colonies in 1873. That is when the period of 10 years of state supervision, which had been instituted after slavery had been abolished by law on July 1, 1863, in Surinam and the Caribbean islands, then colonies of the Kingdom of the Netherlands. We also commemorate that people from Asia were subjected to hard labour under contract in Surinam under Dutch colonial rule, in which patterns from slavery were often still present. Contract workers from Asia were also employed in the Cape Colony in what is now South Africa.
The painful past of slavery has also shaped our current society and is therefore a history that touches us all. It is a past that continues to effect the present in ways that people still experience in their daily lives, for example in the form of discrimination and racism. There is, therefore, a demand for enhancing our knowledge on the subject and a need to acknowledge this past. The commemorative year provides an important impetus to this end, which will be followed through with other initiatives. For example with a new National Slavery Museum in Amsterdam, which is currently in development. The history of transatlantic slavery is a starting point for the museum, with attention to, among other things, Indian-Oceanic slavery. In terms of content, the museum will facilitate reflection through art, education, knowledge and research, and provide a human rights context.
This session is a co-production of ICE and DWH. The focus is on questions and discussion, after introductory remarks by the panelists. In what ways will the Ministry of Foreign Affairs and the representations abroad be involved in the commemoration? How do we deal with this sensitive history nationally and internationally?
Opening:
Dewi van de Weerd – Ambassador International Cultural Cooperation and dir. ICE
Speakers:
John Leerdam and Peggy Brandon – Quartermasters (intendant) of the future National Slavery Museum

Sylvia Vollenhoven – South-African

writer, award-winning journalist, filmmaker and playwright (i.a. Krotoa: Eva van de Kaap - Volksoperahuis Amsterdam), Professor of Practice at the University of Johannesburg.

René Koekkoek – Historian at the University of Utrecht covering

citizenship, sovereignty, slavery, empire, reparations, and historical injustice. 
Moderator:
Kathleen Ferrier – Chair Dutch UNESCO Commission and f

ormer Dutch Member of Parliament.
---
23. The Consequences of the global debt crisis: Another lost decade?
Time: 16:00-17:30
Language: English
Registration open for: participants from all Dutch ministries
Event: Online
Sometimes things need to go horribly wrong to remind us what we have to lose. The debt crisis unfolding in Sri Lanka teaches us how much we stand to lose. Where poverty levels have steadily declined in the country, the country hit a financial wall and defaulted on its debts. The result is that its poverty rate doubled within a year, from 13.1% to 25.6%. With setbacks of this magnitude, the question arises if this is part of a larger trend or if it is an isolated case? Unfortunately, it looks like the former. Many countries already have a high risk of debt distress, and it may even get worse as around 69 low- and middle income countries will have to increase debt repayments by 35% next year, up to a whopping $62 billion! With so much money flowing back to creditors, how much money will remain to fund vital services such as health and education, or climate change? It certainly seems that the system is out of order and in need of fixing.
Join us for a discussion, accessible for everyone, with Jeromin Zettelmeyer, head of Brussels-based think tank Bruegel, and Hamid Rashid, Chief at the UN Global Economic Monitoring Branch, about the causes, effects and maybe even solutions to the global debt crisis.
Vrijdag 3 februari 2023 / Friday 3 February 2023

24. EU: Building a new engine for Europe
Time: 09:30-11:00
Language: English
Registration open for: participants from all Dutch ministries
Event: Online
EU reform is back on the agenda. EU engagement forces the EU to think about a new institutional architecture that is able to work for 36 members or maybe more. What kind of EU can that be? One that is still efficient and legitimate? In this session we will discuss a possible agenda for EU reform. An agenda that strengthens the EU and makes it ready for the 21st century, but also an agenda that will pass the test of ratification. What could such a major reform look like?
Speakers:
Dr. Nicolai von Ondarza (Head of EU/Europe Research Division, Stiftung Wissenschaft und Politik, Berlin)

Prof. Dr. Maria Demertzis, Senior Fellow Bruegel (Brussels) and Professor of Economic Policy at the School of Transnational Governance (European University Institute, Florence)
---
7. Mensenrechten, Democratie & Internationale Rechtsorde (NIEUWE DATUM)
Tijd: 13:00-14:30
Taal: Nederlands
Toegankelijk voor: Rijksbreed
Event: Online
Engageren in een gure wereld op ons nieuwe Nederlandse 'Mensenrechten-, rechtsorde- en democratiebeleid': hoe doen we dat en wat moet er anders?"
De wereld verandert, met grote gevolgen voor de individuele rechten van de mens. Wereldwijd zijn burgers het slachtoffer van de verminderende naleving van mensenrechten, machtspolitiek en geweld bedreigen de internationale rechtsorde en de democratische vooruitgang van de laatste decennia stagneert. Het kabinet ziet daarom de noodzaak om het verband tussen de mensenrechten, democratie en internationale rechtsorde helder te laten weerklinken in het mensenrechtenbeleid. 'Pushback' en 'backsliding' van democratie, mensenrechten en de rechtstaat zijn aan de orde van de dag op vrijwel alle belangrijke deelterreinen en in alle regio's van de wereld. Hoe zorgen we er voor dat ons nieuwe mensenrechten-, democratie- en rechtsordebeleid effect heeft, ook in deze veranderende wereld? En welke rol kan ons postennet hierbij spelen?
Met DGPZ, Tanja Gonggrijp (PV Raad van Europa), To Tjoelker (CdP Cotonou) en Christine Pirenne (CdP San José).
---
25. Keynote: Fiona Hill on Russia
Time: 15:00-16:30
Language: English
Registration open for: participants from all Dutch ministries
Event: Online
The Russian invasion of Ukraine is of course the most pressing recent violation of the rules-based global order and a geopolitical turning point that generates crucial questions for the future. We are delighted to be able to discuss this challenge with key-note speaker Fiona Hill. Fiona Hill is currently Senior Fellow at the Brookings Institute and is one of America's leading Russia experts. She has studied Russian politics for decades at a.i. Harvard University, St. Andrews and the Eurasia Foundation, and co-authored an intellectual biography of mr. Putin ('Mr Putin, Operative in the Kremlin', 2015). From 2017 to 2019 she served as a deputy assistant on Russia Policy to president Trump, and before that worked in both the Obama and Bush administrations. Ms. Hill is a frequently sought public commentator on Russian and American politics, having gained national celebrity with her Congressional testimony during the first impeachment trial against president Trump. Last year, ms. Hill published "There is Nothing for You Here: Finding Opportunity in the 21st Century", reflecting on her own remarkable biography of growing up as a miner's daughter from Northern England to become a key advisor at the White House, and advocating expanded opportunity in Western societies to prevent an authoritarian swing that could rival modern Russia's. Ms. Hill will give a key note introduction, after which there is opportunity for Q&A with the audience.
BZ Strategy Days 2023
Registration website for BZ Strategy Days 2023
BZ Strategy Days 2023events@sharedbusiness.nl
BZ Strategy Days 2023events@sharedbusiness.nlhttps://www.aanmelder.nl/bzstrategydays2023
2023-01-23
2023-02-03
OfflineEventAttendanceMode
EventScheduled
BZ Strategy Days 2023BZ Strategy Days 20230.00EUROnlineOnly2019-01-01T00:00:00Z
To be announced
To be announced