Event registration: Digital Museum Lab Prototyping Party
Ready for some steep learning curves and out of your comfort zone magic? That's the spirit! 
We - Digital Museum Lab & Hackastory - believe we should stop talking and start building. Through experiment and learning by doing, our innovative storytelling skills will grow, confidence will increase and a new future proof museum practice will establish more quickly.
The theme of this two day pressure cooker is connecting digital to physical environments and collections. Using visual thinking and refreshing brainstorm methods, the experts of Hackastory will guide you and your multidisciplinairy team in using new out of the box ways of designing concepts. Central to your design is the audience you design for - the technologies you use will follow.
Using sensors, AR/VR, digital 3D models.. with the right experts and some basic skills, possibilities are endless. Of course there will be a Fablab with 3Dprinters, a vynil cutter etc. and enough classic tinkering material too, so your prototype may take any shape! 
There's room for 30 curious and enthousiastic minds, so register soon. And do you know inspiring people you've always wanted to collaborate with? This is your chance, send them an invite! Designers, coders, makers, storytellers... the more diverse the teams, the better.
See you soon,
The Digital Museum Lab & Hackastory team
Please note:
- If there are English speaking participants, the event will be in English. You can however always ask questions in Dutch!
- The kick-off on October 19 is part of the event: you can only participate in the event if you can attend the kick-off. 
Digital Museum Lab - Prototyping Party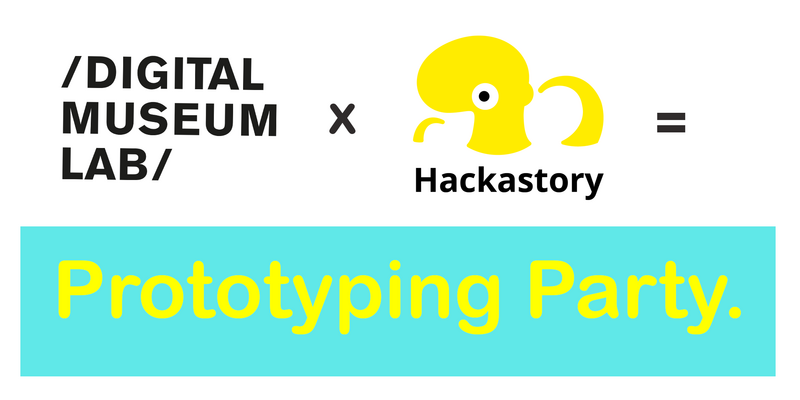 Registration website for Digital Museum Lab - Prototyping Party
Digital Museum Lab & Hackastory teamdmlprototypingparty@gmail.com
Digital Museum Lab & Hackastory teamdmlprototypingparty@gmail.com
2017-10-19
2017-10-28
Digital Museum Lab - Prototyping PartyDigital Museum Lab - Prototyping Party0.00
Allard Pierson MuseumAllard Pierson MuseumOude Turfmarkt 127