About the Dutch participants
The Dutch participants' participation is part of a longer trajectory in which they aim to learn about both the Swedish and Danish market and local innovations, try to connect with potential partners and prepare for a possible market entry. Below the companies have been divided into four groups, based on their expertise.
Sustainable and Circular Urban Development 
Building the New  
Building The New is developing an ecosystem of products and services that bring consciousness in the living environment. This is being done by actively solving challenges like loss of biodiversity, lack of social inclusion, nitrogen polution and housing shortage on the NL market. The innovations  developed with expert companies are launched in their own real estate development projects and supported with incubator tooling. In 2021 first project is finished, containing approximately 56 homes in the town of Amersfoort called Into The Woods. 
www.buildingthenew.nl (not yet live)
 
BLOC  
BLOC is a high-profile concept and project developer working both on its own projects (The Dutch Mountains: largest wooden building in the world) and for a selection of clients such as HEINEKEN, Vrumona and multiple municipalities and provinces. They work on buildings, areas and mobility systems, all from the perspective that there is a need for cities that are more clever, cleaner and competitive. 
Space & Matter  
Space&Matter is a studio for spatial design and concept development. With an integrated design approach creating circular buildings and neighbourhoods that foster close knit communities and have a positive impact on the planet. Within the Dutch circular economy market they have a strong position within the market and are at the forefront of developing sustainable floating neighbourhoods, providing resilience in face of climate change. As well as spatial and concept design services they also develop ventures, including a community-led housing platform CrowdBuilding and a modular timber construction company BoomBuilds, which offers a scalable circular construction system. 
Sustainable Energy Generation 
Airturb  
Turn your world around. Cash the wind with 100% green energy. The Airturb Model One yields energy from as little as wind force 1. The Airturb can be installed on any roof.
MODEL ONE 
Compact energy 
The Airturb One is supplied installation ready. The height is 1.40 metres, the weight is under 25 kg. Installation: It can be mounted in different ways. Your local Airturb dealer would be happy to advise you on suitable options. 
Wind 
The Model One can produce 600 Watts per hour under optimal conditions. Whether it concerns a mobile telephone or an electric car, up to wind force 6, the Airturb can supply a share of your total energy needs. 
Energyfloors 
The mission of Energyfloors is to speed up the energy transition by creating awareness about renewable energy in exciting ways. 
By designing and building floors that generate energy, are smart, interactive and make sustainability visible. So everyone who steps on them realizes that they can really make an impact. 
https://energy-floors.com/
 
Van der Valk Solar Systems  
Van der Valk Solar Systems is since 2009 one of the fastest-growing companies in the solar industry and focuses entirely on the development and production of solar mounting systems for pitched roofs, flat roofs, and open fields. Van der Valk Solar Systems also has an office and warehouse in the UK and Sweden and an office in Spain. Currently active in 13 countries. 
https://www.valksolarsystems.com/en
 
Studio Solarix 
Studio Solarix can deliver an integrated contribution to make buildings more sustainable, both in new developments and redevelopments. In order to do so, Studio Solarix designs, researches and develops aesthetic, sustainable and energy-generating facade elements.  
Studio Solarix originated from the combined ambition of Reinier Bosch (product designer and artist ) and Marloes van Heteren (architect). With their extensive knowledge in the market of architecture, product development, design, and sustainability, they are the founders of Solarix: a beautiful design facade panel that generates energy for the people. 
Sustainable Buildings through Data 
thinkproject
All projects need a single source of truth. In complex construction projects, people create masses of data which needs to be reliably collected, managed and disseminated. Thinkproject's secure, cloud-based solutions support the entire project lifecycle. Connecting people, teams, processes, information and systems across company boundaries, enabling an open, collaborative approach. 
 
thinkproject's construction intelligence platform also enables mobile access, keeping every worker connected to their project regardless of what hardware is at their fingertips - even supporting workers when poor connectivity prevents internet access. By facilitating digital interactions where things happen, they enable efficient project delivery. 
 
Applying cloud-deployed technologies, projects are set-up and rolled-out for users in under a day. Projects requiring BIM insights are no exception. The BIM capabilities of thinkproject's  help design and construction teams, start coordinating key information within hours. 
 
Also being offered is detailed support for common industry contracts such as NEC and FIDIC, recognising that effective change management is vital to efficient project delivery from day one. With thinkproject, workers can collaborate and coordinate within hours. 
https://group.thinkproject.com/en/
Orangenxt 
OrangeNXT is part of the ICT Group N.V, which also includes Additude from Sweden. Within the ICT Group strategy of Smarter Cities, Smarter Industries, and Smarter Healthcare, OrangeNXT focusses on developing ready-to-use Software-as-a-Service (SaaS) solutions that boosts Digital Transformation by connecting people, devices, and data, using technologies in the field of Enterprise Mobility, IoT, Data & AI.
SMARTBUILDINGS creates valuable information from diverse data sources and displays it in one central dashboard. This normalized and standardized data allows you to compare the performance of your buildings in a uniform manner, or to evaluate it against a framework of general NL benchmark data. One of those data sources is energyNXT, OrangeNXT's energy-specific IoT platform. The platform provides better insight into an organization's energy management system and creates opportunities for smart deployment and harmonization of energy production resources and equipment that consumes energy.
Priva ECO 
Priva is a building automation company that develops, manufactures and supplies its solutions and products through a network of control specialists, Priva Partners. Priva develops and offers cloud-based solutions that adds value during buildings' operational lifecycles. Priva ECO is an AI solution that improves comfort and energy performance in commercial, public and industrial buildings and in addition energy flexibility. Priva ECO is a cutting-edge cloud-based solution that uses a digital twin of the building, artificial intelligence to learn from its decisions and live data from the building. With these technologies it can predict both the comfort levels and the energy consumption 24 hours in advance.
GloBLD 
GloBLD is part of the Holding NextOn in Amsterdam and concerns a collection of 15 organizations. Nexton is a consultant and contractor for (installation) technical issues. They make major themes such as smart building, energy transition, sustainability, circularity and as-a-service models concrete for buildings and their users with a guaranteed result. 
Sustainable Building Components 
Hamwells  
Hamwells is an engineering company with a focus on sustainable shower systems. Currently looking for scaling-up possiblities and international growth within North and West Europe, by forming strong partnership that enables the further development of the products and the launch of new products for specific market solutions. 
The products are manufactured Hamwells production facility in Rotterdam.  
MHB is a leading developer and manufacturer of exclusive steel facades, windows and doors. Through innovation, unique solutions are created for customers with high demands such as architects and construction companies. Core competencies on: - Extremely slim steel profile frames - Fire proof - Burglar proof - Built for custom solutions  
Young Medical
Young Medical, a Q-bital company, is an autonomous innovative and fast-growing sales and production organization with in-house design and engineering capabilities, that produces modular facilities for the healthcare sector. Young Medical has a focus on the delivery of temporary and permanent operating theaters, diagnostic centers, CSSD departments and dialyses centers. The Young Medical team consists of healthcare professionals with both a clinical and technical background to serve their clients with bespoke solutions. Clients value Young Medical because its tailored innovative and sustainable facilities that are developed taking the specific clients requests in consideration, while the client is provided with the newest insights that bring safety and comfort for its patients. Young Medical has built a large variety of facilities in the Benelux, the UK, The Nordics and Australia.
https://www.young-medical.com/
Dutch-Danish Sustainable Building Event - Digital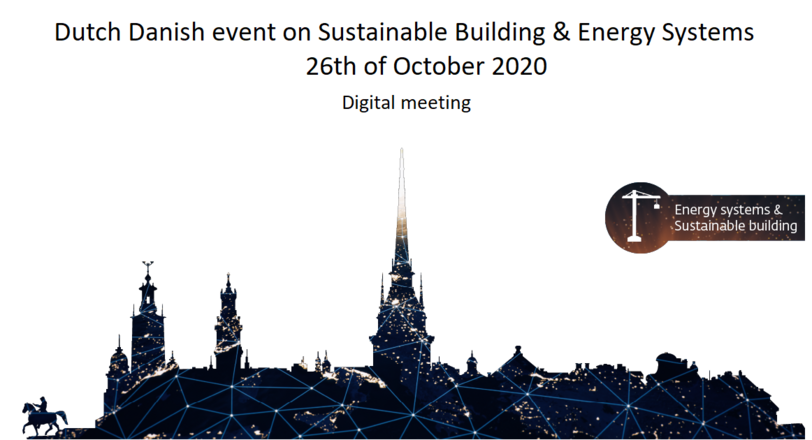 Registration website for Dutch-Danish Sustainable Building Event - Digital
Dutch-Danish Sustainable Building Event - Digitalevents@innovationquarter.nl
Dutch-Danish Sustainable Building Event - Digitalevents@innovationquarter.nlhttps://www.aanmelder.nl/dutchdanishsustainablebuilding
2020-10-26
2020-10-26
OfflineEventAttendanceMode
EventScheduled
Dutch-Danish Sustainable Building Event - DigitalDutch-Danish Sustainable Building Event - Digital0.00EUROnlineOnly2019-01-01T00:00:00Z
To be announced
To be announced