[in English]
Why Boston?
The City of Boston is a frontrunner in the US when it comes to preparing for the impact of climate change and lowering carbon emissions. The city has been named the most energy efficient city in the US four years running and won the Bloomberg American Cities Climate Challenge in 2018.
As (non)residential buildings are the source of 70% of greenhouse gas emissions in Boston, infrastructure and building are a major focus in tackling the city's climate and emission challenges. The city considers itself as a national leader in green building and is promoting the next generation of high performance deep green building. Programs such as the E+ Green Building Program aim to facilitate energy and environmentally positive homes. New regulations moreover require large and medium-sized buildings to show improvement in their annual energy and water use every five years. In the coming years the city will make extra investments to allow large buildings to adopt cutting-ede technologies for energy performance and facilitate the financing of energy performance investments for commercial and institutional buildings.
The ecosystem in the Greater Boston Area and State of Massachusetts moreover add to the favourable conditions to implement innovations.  Massachusetts' progressive clean energy, innovation, and education policy environment and unique concentration of research and development, universities, innovation, and startup excellence have created the ideal environment for the world's leading corporates, academics, and innovators to thrive. Through its economic development agency, Massachusetts Clean Energy Center (
MassCEC
, annual budget +-$28 mln), the State of Massachusetts puts Clean Energy to work, and actively supports job creation and long-term economic growth across the Commonwealth. MassCEC works to increase the adoption of clean energy while driving down costs and delivering financial, environmental, and economic development benefits to energy users and utility customers acrosse the state. The state has moreover set the gold standard for energy efficiency and ranks first in Bloomberg's Innovation Index, as well as in per-capita early-stage clean energy venture investment. Boston is the number one city for startups according to the U.S. Chamber of Commerce.
Informatiesessie Missie Energy Systems & Sustainable Building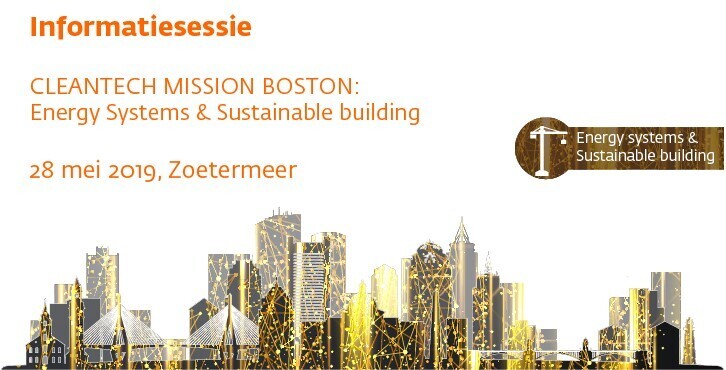 Registratiewebsite voor Informatiesessie Missie Energy Systems & Sustainable Building
Informatiesessie Missie Energy Systems & Sustainable Buildingevents@innovationquarter.nl
Informatiesessie Missie Energy Systems & Sustainable Buildingevents@innovationquarter.nlhttps://www.aanmelder.nl/infocleantechboston
2019-05-28
2019-05-28
OfflineEventAttendanceMode
EventScheduled
Informatiesessie Missie Energy Systems & Sustainable BuildingInformatiesessie Missie Energy Systems & Sustainable Building0.00EUROnlineOnly2019-01-01T00:00:00Z
Nog niet bekend
Nog niet bekend