ESER Workshop - MSK Emergencies
Thursday, November 05, 2020 | 17:00-19:30 CET
Log on from your time zone!
 
Teaching run by experts from two Level 1 trauma centres, suitable for radiologists at any level
Interactive learning with individual access to a wide range of cases
Receive a personalised workbook
 
Course leads:
Dimitri Amiras, London/UK
Marcela De La Hoz Polo, London/UK
Elizabeth Dick, London/UK
Susan Hesni, London/UK
Davoud Khodatars, London/UK
Andreas Panayiotou, London/UK
Learning objectives; By the end of this session, the attendee will be able to:
1. Understand how non-traumatic MSK emergencies can be classified – by anatomical location or underlying aetiology
2. Be able to better recognise and understand MSK emergency imaging by actively interrogating a variety of cases
3. Be able to analyse imaging features to generate a differential diagnosis
4. Be able to explain the limitations of imaging, and in which patients the diagnosis cannot be confirmed radiologically
5. Understand when to urgently call and discuss with the clinical team
How it works:
Once registered, you will be sent a link to all cases. During the session the teachers will give you enough time to scroll through each case yourself. You will be able to share your screen and discuss with the rest of the attendees. The workshop will involve active participation – including via interactive polling, chat function, and small breakout sessions. You will be given a personalised workbook and learning points and answers will be shared with you.
ESER Workshop - MSK Emergencies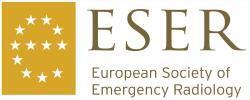 Registration website for ESER Workshop - MSK Emergencies
Ms. Ricarda Poschinfo@aanmelder.nl
Ms. Ricarda Poschinfo@aanmelder.nlhttps://www.aanmelder.nl/mskemergencies
2020-11-05
2020-11-05
OfflineEventAttendanceMode
EventScheduled
ESER Workshop - MSK EmergenciesESER Workshop - MSK Emergencies0.00EUROnlineOnly2019-01-01T00:00:00Z
To be announced
To be announced