Free live Webinar on March 12th
New possibilities in the design of manifolds
Additive Manufacturing
Hydraulic manifolds are the brain of a hydraulic system. Rexroth has perfected the complex design and manufacture of manifolds to produce millions of units. However, could things get any better? Yes it could, thanks to additive manufacturing completely new possibilities are opening today.

3D printed sand core
We have developed a process in which the manifolds are produced based on a 3D-printed sand core. Your benefits? 90 degree transitions and redirection of oil flow are a thing of the past. For 3D-printed sand cores, channel holes no longer need to be straight, which leads to the avoidance of holes and screw plugs.
Weight reduction and flow optimization
Additive manufacturing enables the implementation of individual inner and outer geometries, including weight reduction and flow optimization. The manifolds fit perfectly into your application and help to save energy. 
In our free webinar, we will show you in detail how you can benefit from this innovative technology and which cases the process can be used to its full potential.
Morning and afternoon session
Option 1) 09.00 - 09.45 CET
Option 2) 16.00 - 16.45 CET 
Moderator and Expert
A moderator and an expert speaker lead our webinars, and you can ask questions anonymously during training. It is free of charge.
Try it. We look forward to your registration.
Webinar Manifolds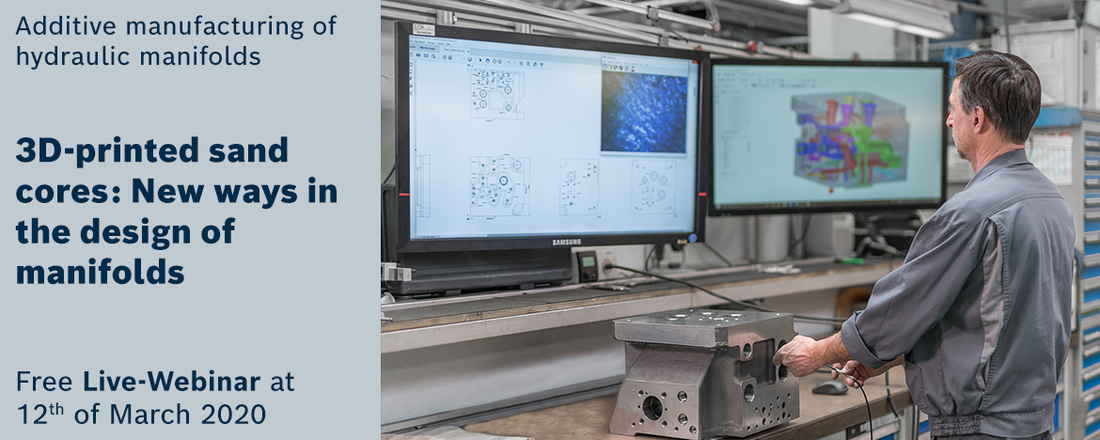 Registration website for Webinar Manifolds
Webinar Manifoldsinfo@boschrexroth.nl
Webinar Manifoldsinfo@boschrexroth.nlhttps://www.aanmelder.nl/rexrothmanifolds
2020-03-12
2020-03-12
OfflineEventAttendanceMode
EventScheduled
Webinar ManifoldsWebinar Manifolds0.00EUROnlineOnly2019-01-01T00:00:00Z
To be announced
To be announced