Monday 25 November 2019 (TU Delft | Bouwcampus)
09.00 – 09.30    Registration with coffee and tea
09.30 – 09.45    Opening 
09.45 – 10.15    Keynote speech by Dr. Silver Mugisha 
Topic: Accelerating access to drinking water in developing countries: the role of innovative technologies in leapfrogging challenges. 
Over one billion people in developing countries have inadequate access to clean water and most countries are struggling to make progress towards the SDGs. The challenges faced by most of the developing countries in regard to the delivery of safe drinking water are ubiquitous across the World. Addressing these challenges will require many different solutions. These solutions span technology, policy, governance and behavioural change to make a real difference, which will be addressed in this talk.
National Water and Sewerage Corporation (NWSC) Uganda is one of the well preforming utilities in Africa and has implemented a series of interventions to accelerate access to safe drinking across the country. Working together with all stakeholders, closely collaborating with the government and development partners, the Corporation changed its focus and prioritized acceleration of access to safe water for all. Currently, NWSC is operating in over 253 large and secondary centres from 23 towns in 2013. The Corporation has also adopted new innovative technologies that have provided opportunities in lowering investment and operational requirements, making optimal decisions, providing better customer experiences as well as opening the possibility of delivering more ambitious plans in respect to acceleration of access to water and sanitation. This talk will briefly explore this journey of utilising technological innovations for NWSC.
Silver Mugisha (PhD), is the current Managing Director of National Water and Sewerage Corporation of Uganda. He has been in this position since 2013. He has over 20 years' experience in water utility management, international policy, research and advisory services. He specialised in institutional development, policy analysis and utility transformational and change management processes, and has published widely in peer reviewed journals. Mugisha was a member and Vice President of IWA Board (2014-2018). Since 2014 he is the Vice President of African Water Association for East African Region. He is also a member of SENSE Research School of The Netherlands. 
10.15 – 10.45    Presentation by Dr. Marco Schouten (VEI)
Topic: Upscaling technologies for SDG#6.
When one discusses the role of technology in achieving SDG 6.1, one is easily tempted to propagate the upscaling of some innovation that have been successfully tried in utilities in Europe or the United States. In many cases, such upscaling has led to great improvements in the ability of water operators in developing countries to deliver services. For example, because of GIS applications that are common in Western water utilities, also the utilities in developing countries can do proper pressure management within their network, which results in more people receiving water, and less leakages.
However, in his talk, Marco Schouten would like to a bring out his experience of the limitations of upscaling. Even stronger: upscaling of a best practice has its drawbacks and should be cautiously adapted taking into regard the context of a developing country. Schouten will demonstrate several cases from the experience of Vitens Evides International (VEI). He will also share some of his thoughts on what elements should be in place for successful upscaling of best practice technology.
VEI is active worldwide in 20 countries providing support on a Water Operator Partnership to colleague water operators. The aim is to contribute to the realization of SDG#6 in partnership, by combining technical assistance with technological interventions.
10.45 – 11.15    Coffee and tea 
11.15 – 12.30    Technology session
12.30 – 13.30    Lunch with exhibition
13.30 – 14.00    Best Paper Award 2019
As the first author of the paper "Sediment color tool for targeting arsenic
-safe aquifers for the installation of shallow drinking water tubewells", published in Science of The Total Environment in 2014, Dr. Mohammed Hossain is proclaimed as the winner of the TU Delft Global Drinking Water Best Paper Award 2019. During the ceremony on 25 November, he will be awarded in person. On behalf of the Best Paper Award Committee, Prof. Dr. Luuk Rietveld (TU Delft) will read out the jury report, followed by a presentation of Mohammed Hossain on the improvement of access to safe water supply in Bangladesh by the sediment color tool.
14.00 – 15.30   Thematic break-out sessions
Participants can choose between three creative break-out sessions, lead by experts from the field:
Household Water Treatment and Safe Storage (Prof. Dr. Gertjan Medema – KWR)

Intermittent Supply (Dr. Nemanja Trifunovic – IHE Delft)

Water Supply, Social Processes and Behaviour (Dr. Lisa Scholten and Dr. Tara Saharan – TU Delft)
15.30 – 16.00   Report out
16.00 – 16.45   Panel discussion
16.45 – 17.00   Closure
17.00                Drinks and bites
Tuesday 26 November 2019 (TU Delft | Aula)
08:45 – 12:30   The African Water Corridor challenge: (re)using every drop
12:30 – 16:45   Impact Day
16:45                Drinks and bites
The Role of Technology; Access to Safe Water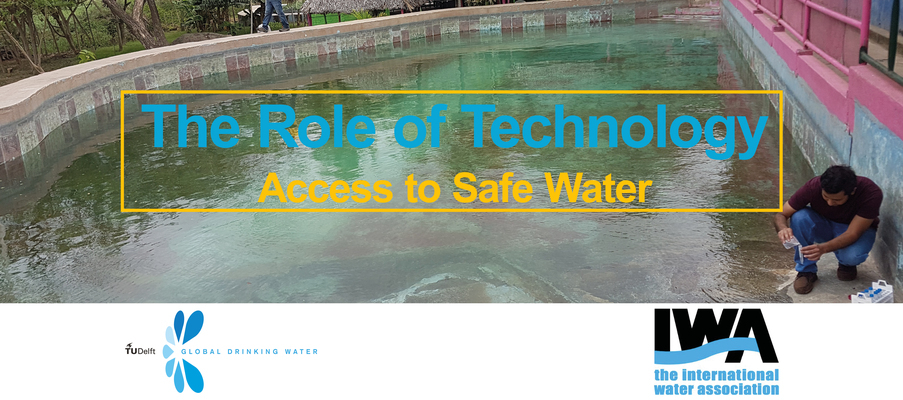 Registration website for The Role of Technology; Access to Safe Water
TU Delft | Global Drinking Waterglobaldrinkingwater@tudelft.nl
TU Delft | Global Drinking Waterglobaldrinkingwater@tudelft.nlhttps://www.aanmelder.nl/roleoftechnology
2019-11-25
2019-11-26
OfflineEventAttendanceMode
EventScheduled
The Role of Technology; Access to Safe WaterThe Role of Technology; Access to Safe Water0.00EUROnlineOnly2019-01-01T00:00:00Z
TU Delft BouwcampusTU Delft BouwcampusVan der Burghweg 1 2628 CS Delft Netherlands