Welcome to the official website of the
Benelux Partner Summit 2019
As a valued Sony Video Security partner, you're invited to attend our exclusive Benelux Partner Summit and VIP Dinner, taking place on Tuesday May 21st 2019 in the beautiful setting of QC Stables conveniently located to the west of Antwerp.
It's a unique opportunity to experience our latest innovations in video security that combine superior imaging performance with smart analytics.
We'll demonstrate how Sony is working closely with key integration partners to deliver end-to-end customer solutions across vertical industries including transportation, critical infrastructure and city surveillance.
You'll also learn how we're leveraging cutting-edge developments in AI and machine learning, edge analytics and IoT to meet your customers' evolving needs – today and tomorrow.
Selected customers will share their perspectives regarding latest security challenges in the digital era. And naturally you'll be able to meet, mingle and share views on fresh opportunities and industry challenges with other like-minded experts and partners.
Registration information
Please register to confirm your attendance at the Benelux Partner Summit and
VIP Dinner by 10th May, 2019, indicating any special dietary requirements.
If you have any question, don't hesitate to get in touch.
Best regards,
Petra Swinnen - Sales Manager Belgium
Andre Bos - Sales Manager Netherlands
Antonio Escamilla Recio - Sales Director EMEA
Sony Video Security driven by Bosch
Benelux Partner Event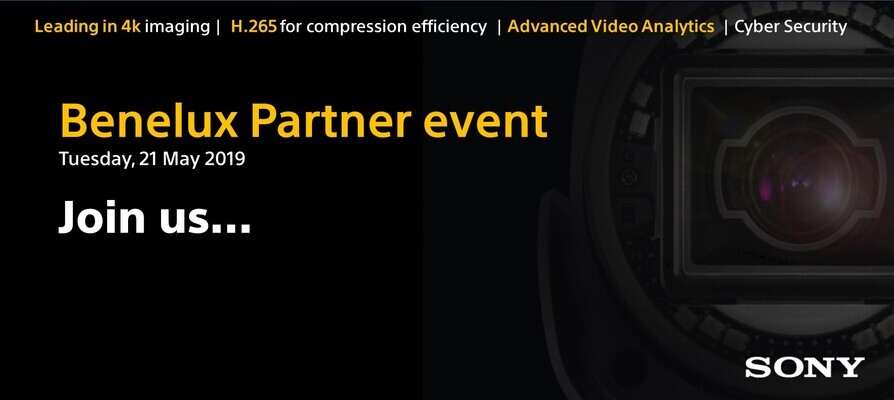 Registration website for Benelux Partner Event
Benelux Partner Eventchristof.stadter@bosch.com
Benelux Partner Eventchristof.stadter@bosch.comhttps://www.aanmelder.nl/sonyvideosecurity_benelux
2019-05-21
2019-05-21
OfflineEventAttendanceMode
EventScheduled
Benelux Partner EventBenelux Partner Event0.00EUROnlineOnly2019-01-01T00:00:00Z
Benelux Partner Event 2019Benelux Partner Event 2019Beeldstraat 15 9100 Sint-Niklaas Belgium