Program
28 September 2016
08:00
-
15:30

TOUR DATE 28 OF SEPTEMBER 2016

With City Sightseeing Panama you can visit the following stops:
The Miraflores Visitor Center ( Panama Canal - extra charge of $15.00 USD DOLLARS PAID AT THE CANAL )
The Casco Antiguo (Old Quarter)
Fort Amador
Biodiversity Museum (biomuseum)
STRI Smithsonian Marine Exhibition Center (hop off at biomuseum or flamenco – 15 minute walk)
Albrook Mall
Multicentro Mall
Various Craft and souvenir shops

PRICES:
USD $29.00 + 7% + USD $15.00(Panama Canal Entrance) = USD $ 46.03
Were to pay: The day of the event.

When you purchase your ticket you can take advantage of the service Hop On – Hop Off in each of our stops discribe on the top and organize your tour the way you desire, every hour will be going by bus established stops. Please use the map to offer our vendors for exact times of our buses.
Tour: Panama City, Panama September 28, 2016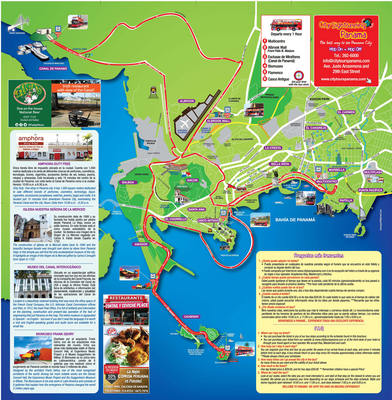 Registration website for Tour: Panama City, Panama September 28, 2016
Tour: Panama City, Panama September 28, 2016info@aanmelder.nl
Tour: Panama City, Panama September 28, 2016info@aanmelder.nl
2016-09-28
2016-09-28
Tour: Panama City, Panama September 28, 2016Tour: Panama City, Panama September 28, 20160.00
Tour: Panama City, Panama September 28, 2016Tour: Panama City, Panama September 28, 2016Phoenixstraat 28b