Welcome to the homepage of the 25th annual meeting of the Association for the Scientific Study of Consciousness, hosted in Amsterdam (The Netherlands) on 12-15 July 2022. On this website you can submit abstracts for a talk or poster and register for the conference. Later, you will be able to find the full conference programme here as well as a floorplan of the conference. 
Abstract submission
Abstract submissions are currently open. To submit an abstract, you need to initiate an Author Account. To do so, please navigate to Abstract submission or click here. After creating your Author Account, you should be able to submit your abstract. To re-enter your Author Account, always use the link you received in your email. 
Please note that only ASSC-members are allowed to submit an abstract and register for this event. If you are not yet an ASSC-member, please visit: https://theassc.org/membership-options/. The deadline for abstract submission is February 15th 2022.
Registration
Registration for ASSC 25 has just opened! To register, please navigate to Register or click here. Early bird registration is available until March 31st 2022. For more information on registration, including Terms and Conditions, see the Register page. Please note that registration is final and that your registration cannot be cancelled or edited. 
For questions regarding abstract submission and registration, please contact us at: assc25.ams@gmail.com. For questions regarding this platform and the abstract submission/registration forms, please contact our website administrator (Stijn Nuiten, stijn.nuiten@gmail.com). 
ASSC25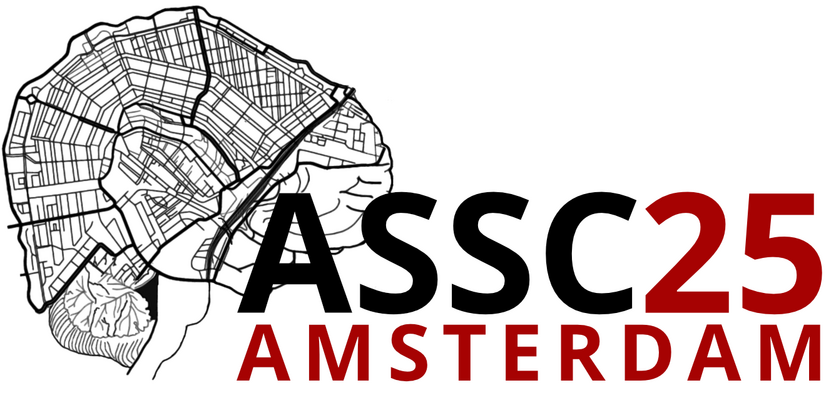 Registration website for ASSC25
ASSC25assc25.ams@gmail.com
ASSC25assc25.ams@gmail.comhttps://www.aanmelder.nl/127716
2022-07-12
2022-07-15
OfflineEventAttendanceMode
EventScheduled
ASSC25ASSC250.00EUROnlineOnly2019-01-01T00:00:00Z
To be announced
To be announced