CAPHRI PhD Spring Meeting 
Science communication: bridging the gap between research and society
Dear fellow PhD candidates,
We would hereby like to invite you all to the annual PhD Spring Meeting! In this meeting, you will learn about increasing the impact of your research and communicating the results and the relevance of your studies to society. More specifically, you will receive practical tips on how to explain your research to a laymen public, making use of video.
Join us on campus or online on the 26th of April for workshops from two experienced science communicators. For those of you in Maastricht: we will make sure that there is a piece of "vlaai" for everyone, and we will also organize drinks afterward!
Still unsure on whether you want to join? This meeting is also intended as preparation for the CAPHRI Research Day. In the PhD-session of this year's CAPHRI Day, we will show your science communication videos. You will receive an invite for submitting a video next week, containing more information on the submission process.
See you on April 26th!
Monique, Frederike, Lieve and Ken
caphri-phdreps@maastrichtuniversity.nl
Programme
Experiences of communicating about science in the media | Roel Hermans
How do you communicate science? In scientific journals? Highly structured papers? Maybe at a conference? Roel Hermans did all of the above but also communicates his research through interviews, tv-shows, and newspaper articles. He aims to ensure that research ends up in society, where it is needed. In an online lecture, he will share his experiences about communicating about science in de media.
Find out more about Roel on his website.
Presenting a scientific topic to a laymen audience | Liza Cornet
Liza Cornet is a scientist as well as a science communicator. This means that, among other things, she provides training to researchers, and translates scientific publications to versions accessible to the general public. In an interactive online lecture, she will share some of her insights into how to bridge the gap between scientific jargon and everyday language. Moreover, in her presentation, she will give some practical tips on creating videos.
Find out more about Liza on her website.
PhD Spring meeting 2022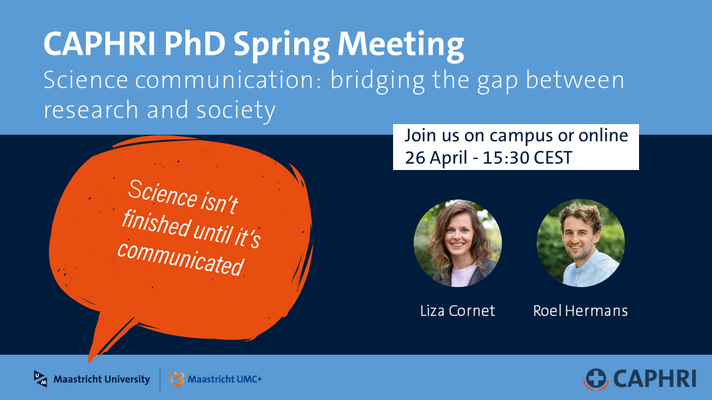 Registration website for PhD Spring meeting 2022
PhD Spring meeting 2022caphri-phdreps@maastrichtuniversity.nl
PhD Spring meeting 2022caphri-phdreps@maastrichtuniversity.nlhttps://www.aanmelder.nl/132960
2022-04-26
2022-04-26
OfflineEventAttendanceMode
EventScheduled
PhD Spring meeting 2022PhD Spring meeting 20220.00EUROnlineOnly2019-01-01T00:00:00Z
Maastricht UniversityMaastricht UniversityMinderbroedersberg 4-6 6211 LK Maastricht Netherlands