Crowdfunding@UM:
How to create a successful campaign?
An online workshop by Guido Vanderbroeck (Senior Advisor - University Fund Limburg) and Gera Nagelhout (Department of Health Promotion, CAPHRI)
Do you like to explore innovative and alternative ways for funding? And do you want to generate exposure and extend your network too? Then, crowdfunding might be a suitable mean to realise your ambition. Since 2019 University Fund Limburg/SWOL has started crowdfunding platform www.umcrowd.nl. By means of this platform UM staff members and students, in cooperation with the Fund, can set up crowdfunding campaigns on behalf of concrete, tangible and societal (research) projects within UM. But how can you achieve a successful campaign? And what are important lessons learned from previous campaigns?
In this workshop Guido Vanderbroeck, Senior Advisor of the University Fund Limburg/SWOL, will give a general introduction on crowdfunding and tips & tricks to launch a successful campaign. In addition, Gera Nagelhout, Professor in Health and Wellbeing, will share her experience on her crowdfunding campaign 'A good health for everyone!' in 2021.
Workshop crowdfunding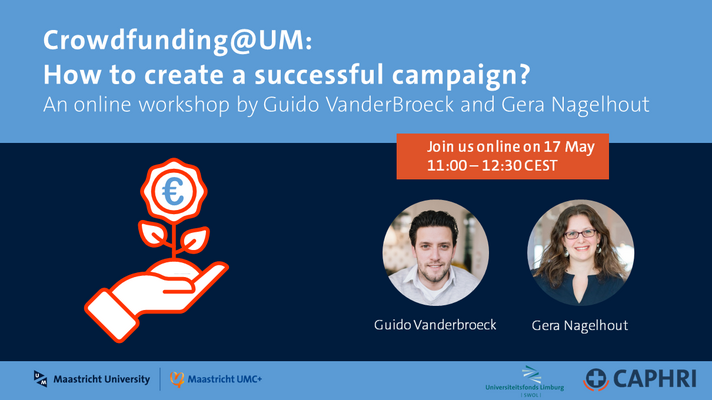 Registration website for Workshop crowdfunding
Workshop crowdfunding info-caphri@maastrichtuniversity.nl
Workshop crowdfunding info-caphri@maastrichtuniversity.nlhttps://www.aanmelder.nl/133164
2022-05-17
2022-05-17
OfflineEventAttendanceMode
EventScheduled
Workshop crowdfunding Workshop crowdfunding 0.00EUROnlineOnly2019-01-01T00:00:00Z
Maastricht UniversityMaastricht UniversityMinderbroedersberg 4-6 6211 LK Maastricht Netherlands