The winter holidays are almost here. Let's celebrate with drinks at the bar and a fun quiz! Will you join us and your fellow PhD candidates?
When?
December 15th
17.00-19.00h (17.30h start quiz)
What? 
Quiz+Snacks+Drinks
Where?
Café 't Pothuiske, Het Bat 1, 6211 EX Maastricht
Registration
Registration is obligatory. Please register before 9 December. 
Register here. 
Looking forward to see you all there,
Your CAPHRI PhD Representatives Frederike, Ken, Lieve and Monique
CAPHRI PhD Winter drinks & Pubquiz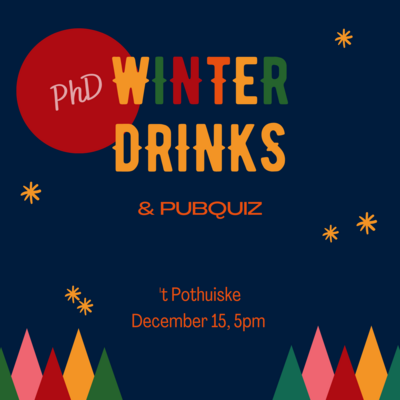 Registration website for CAPHRI PhD Winter drinks & Pubquiz
CAPHRI PhD Winter drinks & Pubquizcaphri-phdreps@maastrichtuniversity.nl
CAPHRI PhD Winter drinks & Pubquizcaphri-phdreps@maastrichtuniversity.nlhttps://www.aanmelder.nl/139319
2022-12-15
2022-12-15
OfflineEventAttendanceMode
EventScheduled
CAPHRI PhD Winter drinks & PubquizCAPHRI PhD Winter drinks & Pubquiz0.00EUROnlineOnly2019-01-01T00:00:00Z
Café 't PothuiskeCafé 't PothuiskeHet Bat 1 6211 EX Maastricht Netherlands