X!LEAD Design for Values 
Join the X!LEAD Design for Values masterclass on Tuesday, December 13 2022 at the IDE Faculty of TU Delft. This masterclass is part of the X!LEAD tailor-made development program and is aimed at young professionals with a maximum of five years of work experience. 
 
During this masterclass, Joost Alleblas from TU Delft introduces the principles of design ethics and the Design for Values method. Both methods offer perspectives on designing technologies that contribute to the good life by addressing and embedding a more comprehensive range of moral values. They show the importance of considering values like trust, autonomy, and privacy in the early phases of design. We will discuss and use elements of the value-sensitive design approach and the methodologies of Design for Values. 

This masterclass will guide you through the different steps and hurdles of designing with and for values. It shows how it alters thinking in the design process and what kind of products, systems, and technological artefacts we can create if we consider entirely what people need to live flourishing lives. 
Getting acquainted with this way of designing new technologies is best done through learning by doing. Using the Design for Values canvas, you will work in groups on several cases. 
Visit this page for the entire program, and register your attendance here! 
X!LEAD Design for Values masterclass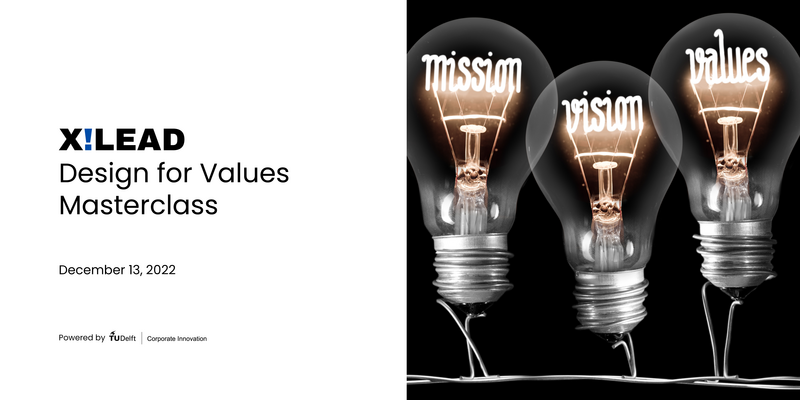 Registration website for X!LEAD Design for Values masterclass
X!LEAD Design for Values masterclassr.f.filon@tudelft.nl
X!LEAD Design for Values masterclassr.f.filon@tudelft.nlhttps://www.aanmelder.nl/139877
2022-12-13
2022-12-13
OfflineEventAttendanceMode
EventScheduled
X!LEAD Design for Values masterclassX!LEAD Design for Values masterclass0.00EUROnlineOnly2019-01-01T00:00:00Z
TU Delft IDE FacultyTU Delft IDE FacultyLandbergstraat 15 Delft Netherlands