Tutors: Marcus Clauss, Clinic for Zoo Animals, Exotic Pets and Wildlife, University of Zurich; Sarah Depauw, University of Applied Sciences Odisee, Belgium; Anouk Fens, Apenheul Foundation, Apeldoorn, The Netherlands ; William Walldén, Kolmården Zoo, Sweden
Aimed at: Zoo staff with responsibility for nutrition and animal diets, academics working in the field of zoo animal nutrition, anyone with an interest in the field
Language: English
Taught hours: 7 (1 day)
Cost: EAZA members: €105 Non-members: €135
Location: Wellton Riverside SPA Hotel, Riga, Latvia
Course Aims:
The aim of this course is to provide theoretical and practical explanation about using regular zoo animal diets as the major component of behavioural management of zoo animals. The course will provide concepts and examples of how to incorporate feeding management in behavioural management (aka 'enrichment'), and hopefully infuse enthusiasm to further develop this approach to contribute to the goal of increasing welfare for zoo animals.
Learning Outcomes:
By the end of this course you will have:
1. Received an overview over the different aims of zoo animal nutrition and how this fits into modern  insights of animal welfare
2. Received inputs to understand the relevance of using the regular zoo diets for behavioural management
3. Practiced how to set behavioural goals ('activity budgets') for a variety of zoo animal groups
4. Learned about welfare assessments and practiced how to set indicators for good feeding practices aiming at zoo animals to experience positive emotions.
5. Discussed the interplay of zoo animal diet design and logistical requirements of behavioural management
6. Practiced developing measures of diet-based behavioural management
7. Experienced examples of diet-based behavioural management
Content:
Historical development of zoo animal nutrition

Zoo animal nutrition in welfare assessments

Setting activity budget aims

Developing physically and cognitively challenging feeding methods

Integrating behavioural management into diet plans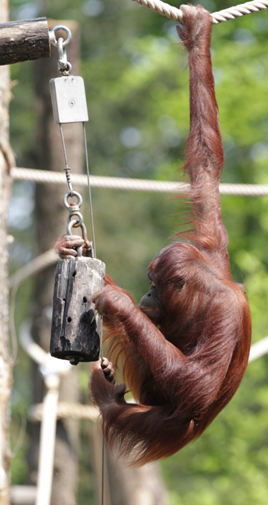 Image © Apenheul
Incorporating behavioural management into diet design and feeding systems: the next level of zoo animal nutrition

Registration website for Incorporating behavioural management into diet design and feeding systems: the next level of zoo animal nutrition
Incorporating behavioural management into diet design and feeding systems: the next level of zoo animal nutritionlaura.myers@eaza.net
Incorporating behavioural management into diet design and feeding systems: the next level of zoo animal nutritionlaura.myers@eaza.nethttps://www.aanmelder.nl/202301bmzn
2023-01-19
2023-01-19
OfflineEventAttendanceMode
EventScheduled
Incorporating behavioural management into diet design and feeding systems: the next level of zoo animal nutritionIncorporating behavioural management into diet design and feeding systems: the next level of zoo animal nutrition0.00EUROnlineOnly2019-01-01T00:00:00Z
To be announced
To be announced