Practical Information
Registration fee
The registration fee will be € 35,- to cover the catering and technical costs for the entire two days.
Overnight stay
The hotel will not be included in this registration fee. When needed, Maastricht offers multiple good hotels for a reasonable price. For example, take a look at the website www.booking.com or https://www.visitmaastricht.com/overnight-stays/hotels.

Travel by car
The parkings of Maastricht are quite expensive, the best alternatives are.
For all parking options and availability please visit: https://www.maastrichtbereikbaar.nl/en/info-for-travellers/car/parking-in-maastricht/

Travel by public transport
From the Central Station of Maastricht, it is approximatly 30 minutes walking to the builing of School of Business and Economics, Tongersetraat 53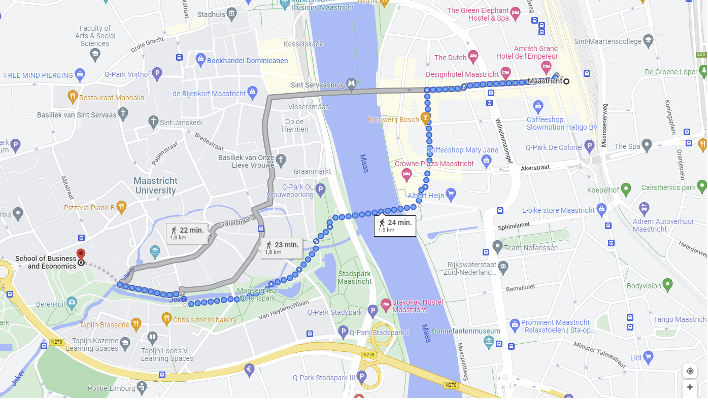 https://www.maastrichtbereikbaar.nl/en/

Funding
The EURON mobility grant is available for PhDs that would like to attend the EURON PhD days, yet do not have the means to cover the overnight costs. Please see the EURON website (www.euronschool.eu) for information on how to apply for this mobility grant.
EURON PhD Days Maastricht

Registration website for EURON PhD Days Maastricht
EURON PhD Days Maastrichtsecr.euron@maastrichtuniversity.nl
EURON PhD Days Maastrichtsecr.euron@maastrichtuniversity.nlhttps://www.aanmelder.nl/euronphddays2023
2023-01-26
2023-01-27
OfflineEventAttendanceMode
EventScheduled
EURON PhD Days MaastrichtEURON PhD Days Maastricht0.00EUROnlineOnly2019-01-01T00:00:00Z
Maastricht UniversityMaastricht UniversityTongersestraat 53 6211LM Maastricht Netherlands