Pro2Tech Annual Event
Dear Pro2Tech members,
The 2023 Pro2Tech Annual Event will take place in the Art Center in Delft on 15th June 9.30-17.00. We will ensure the program excites our PhD students/postdocs/EngD and Principle Investigators. We start jointly by focusing on our mission and strategy and will highlight some major new Pro2Tech themes: Industrial Heat, Sanitation Wastewater and Scalable Personalised Medicine. After lunch, there will be a poster award and a workshop on Story Telling (=how to communicate your work and make it relevant in the 'bigger picture') for the PhD students/postdocs/ EngD. At the same time, the Principal Investigators will jointly work on joint research plans and proposals on the identified themes.
Please register for the Annual Event via the following link: https://www.aanmelder.nl/pro2tech2023/subscribe
We are looking forward to see you all at the Annual Event!
Kind regards,
Johan Padding and John Nijenhuis
Register for: Jacobus Van 't Hoff Lecture 2023
Pro2Tech Annual Event 2023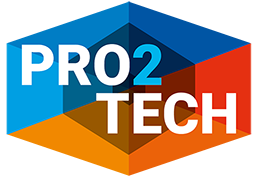 Registration website for Pro2Tech Annual Event 2023
Pro2Tech Annual Event 2023Pro2Tech@tudelft.nl
Pro2Tech Annual Event 2023Pro2Tech@tudelft.nlhttps://www.aanmelder.nl/pro2tech2023
2023-06-15
2023-06-15
OfflineEventAttendanceMode
EventScheduled
Pro2Tech Annual Event 2023Pro2Tech Annual Event 20230.00EUROnlineOnly2019-01-01T00:00:00Z
Art Centre DelftArt Centre DelftRotterdamseweg 205 2629HD Delft Netherlands