Tips and tricks
(CAPHRI PhD Spring Meeting)
Liza Cornet / Studio Wetenschap
1. Content
Start and end Strong
• To grab the attention of the audience
• Start with a statement / question / quote / song
    o With something your audience can relate to
• In the end, come back to your beginning
Guide your audience through your research / Essential ingredients
• Take small steps
• 3 ingredients to convince your audience (Aristoteles)
    o Logos: Facts, information that can be checked, your research
    o Ethos: Credibility, about you as a speaker (e.g., you as a PhD candidate are an expert affiliated to Maastricht University)
    o Pathos: Experience, feelings, emotions
         Use your eyes, hands, use pauses
         Use a song or a photo for example to make it easier for your audience to remember
         Alternate between facts and non-factual information
         Use humor / lightness
Additional tips
• Avoid numbers, give context
• Avoid jargon
• Slow down (give audience time to digest what you have said)
• Use and show your enthusiasm/drive/passion
2. Creating a video
• First focus on content: The format should serve the content
• Keep it simple
    o Use the video skills you already have
    o Pick a format that is easy for you
• Make a script
• Timing: How much time do you need for making and editing, preparing, creating, etc.
3. Video ideas
• Talking head setting (ideally, make sure that the entire upper part of your body is visible)
• Interview setting
• Animation
• Song, spoken word, rap
• Prop story (props to tell the story)
4. More tips and examples
• Studio Wetenschap
• Universiteit Leiden
• Famelab International Final 2018: Start at 51:09
• Example of Logos, Pathos, Ethos
Roel Hermans
Craft your own message
Decide on the best channel
Relation comes before information
Get to know yourself (use stories)
Value your uniqueness (focus on your strengths and be the expert)
Smile and make contact with the audience
Think about your target audience (what do they want to know)
Use the language of your audience to connect
Give them a good quote they have to remember
Show enthusiasm about your work
Be proactive in becoming a good science communicator
Ask for help and advice
Start experimenting
Invest in yourself and your network
Preparation is key
Be prepared
Be flexible
Improvise and adapt
Make your own plan
Don't check social media
Don't listen to colleagues
Stop comparing yourself to others
When you're in… then enjoy the ride!
PhDs Video Event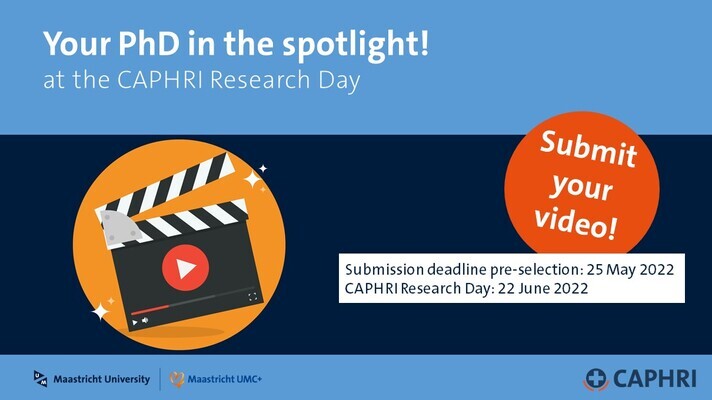 Registration website for PhDs Video Event
PhDs Video Eventcaphri-phdreps@maastrichtuniversity.nl
PhDs Video Eventcaphri-phdreps@maastrichtuniversity.nlhttps://www.aanmelder.nl/133360
2022-06-22
2022-06-22
OfflineEventAttendanceMode
EventScheduled
PhDs Video EventPhDs Video Event0.00EUROnlineOnly2019-01-01T00:00:00Z
Maastricht UniversityMaastricht UniversityMinderbroedersberg 4-6 6211 LK Maastricht Netherlands