BioSB PhD retreat 2021
YoungCB (ISCB Regional Student Group Netherlands) is pleased to invite you to the online BioSB Ph.D. Retreat 2021 in the afternoon of 14th June 2021, starting at 13:00h.
This year, we would like to roll out the Ph.D. retreat in two phases. On the 14th of June, the day before the BioSB conference, we will conduct Part One of the event, with speakers from different research disciplines for talks and interesting panel discussions. During the second half of the year, when the pandemic is better under control, we would like to conduct Part Two, which will consist of a lovely dinner followed by events and games for the Ph.D. candidates, providing a chance to discuss your research and to build a young network with fellow researchers in the Netherlands.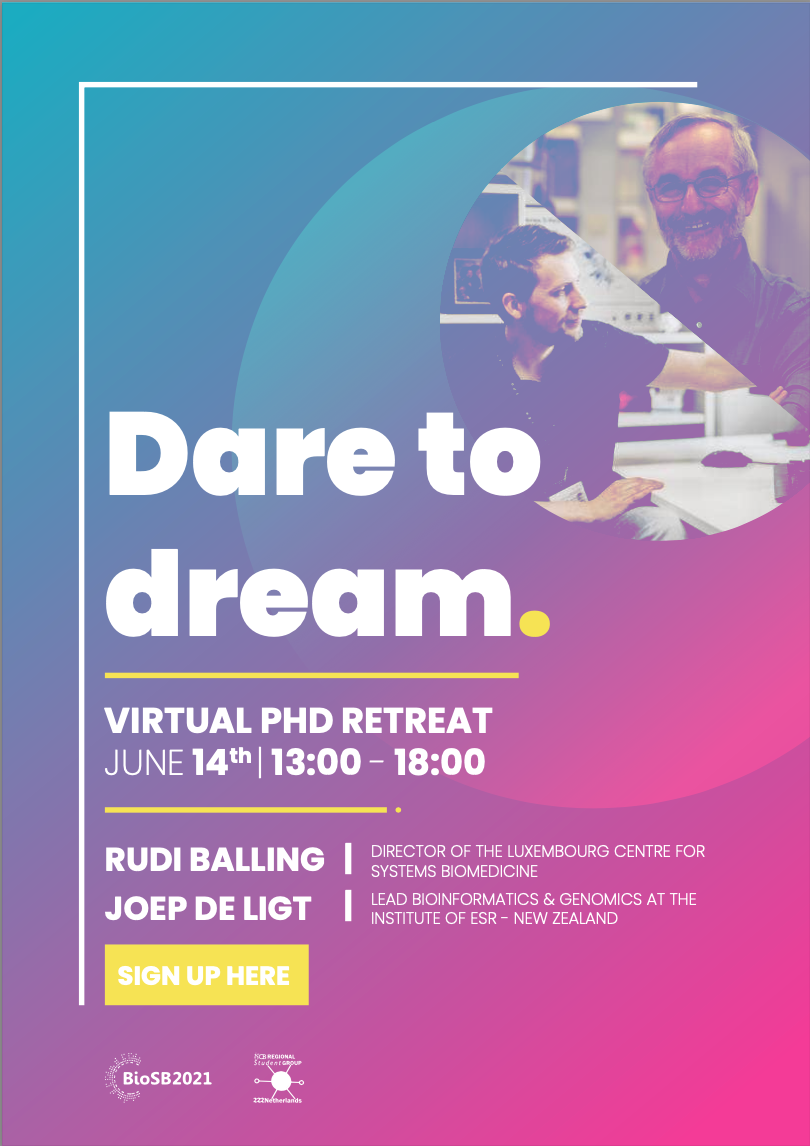 Our theme for this year's retreat is "Dare to Dream". This year's speakers will share with us their most novel and innovative projects that they are working on, latest breakthroughs in their field and their views on how these advancements would impact all of us - opportunities and challenges ahead in the future. The talks will be followed by open and interactive discussion sessions to exchange thoughts, perspectives and ideas. We encourage all (PhD-) students and young researchers in the fields of computational biology, bioinformatics, systems biology and related fields to join us in this annual retreat.
Programme
13:00-13:10 Opening & Welcome
13:10-13:55 Talk by Dr. Joep de Ligt
13:55-14:20 Discussion / Q & A
14:20-14:40 Coffee break and small interactive games
14:40-15:25 Talk by Dr. Rudi Balling
15:25-15:50 Discussion / Q & A
15:50-16:10 Break
16:30-18:00 Digital drinks
We are looking forward to seeing you there!
Registration
You can register for the retreat via the registration form for the conference. You can register only for the retreat (NB select the correct category!) or you can combine your registration with a ticket for the BioSB conference.
Registration for the PhD retreat is free of charge. Registration for the Ph.D. retreat is possible up to and including June 13, the day preceding the retreat. However, people who register for the Ph.D. retreat before the 7th of June will be provided with a surprise package delivered at home (only within the Netherlands). 
BioSB 2021

Registration website for BioSB 2021
BioSB 2021femke.francissen@biosb.nl
BioSB 2021femke.francissen@biosb.nlhttps://www.aanmelder.nl/biosb2021
2021-06-14
2021-06-16
OfflineEventAttendanceMode
EventScheduled
BioSB 2021BioSB 20210.00EUROnlineOnly2019-01-01T00:00:00Z
To be announced
To be announced