Thursday, 30 September, 2021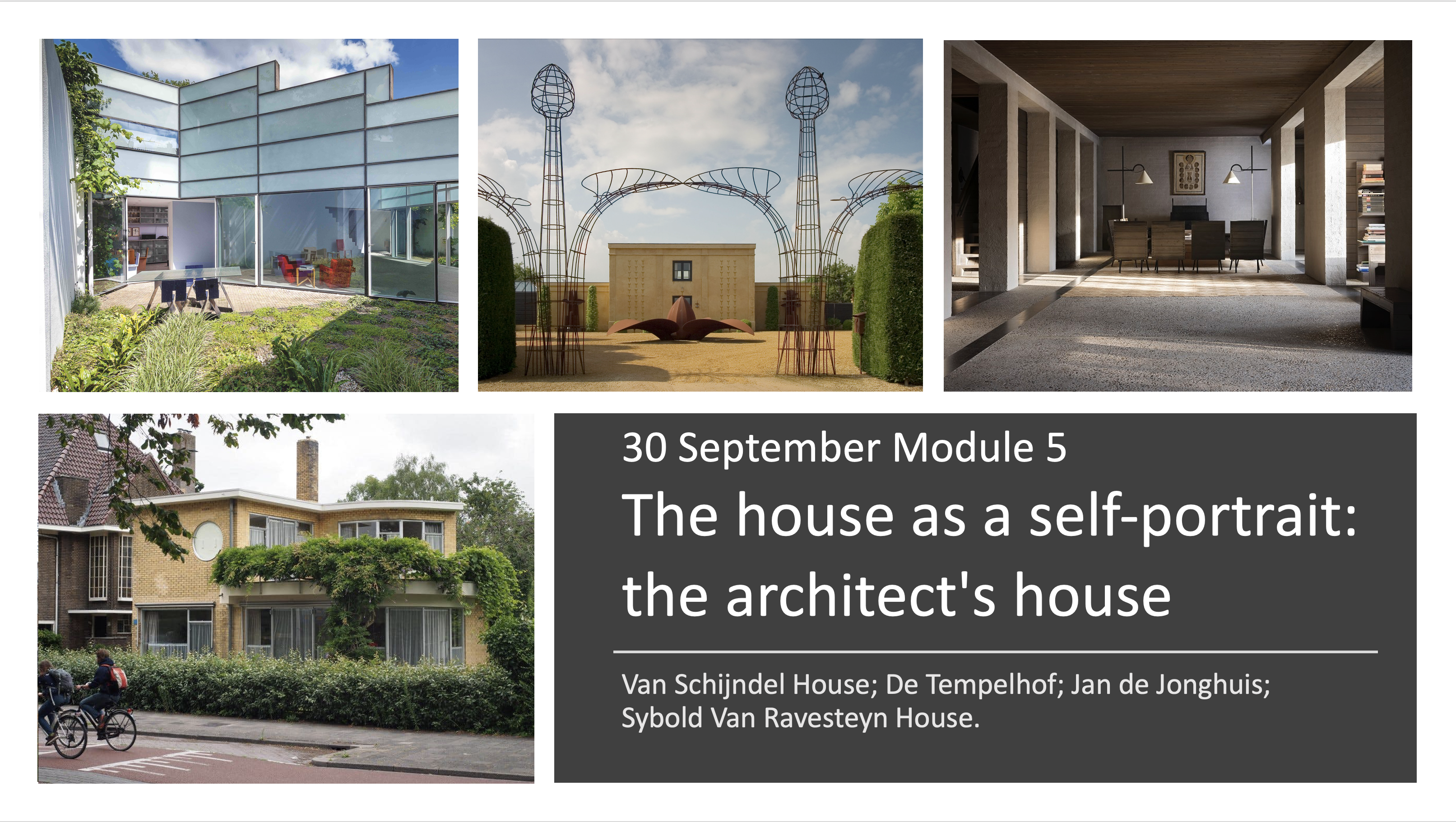 Module 5 - Home as Self-Portrait: Architect's Houses 
Lecture and video together will approximately take 1,5 hour. The optional Live Stream House Tour will also take circa 1-1,5 hour.
09:00 – 10:30 a.m. PDT/LA 
12:00 – 01:30 p.m. EDT/NY
06:00 – 07:30 p.m. CEST/Europe
Keynote Address: Gennaro Postglione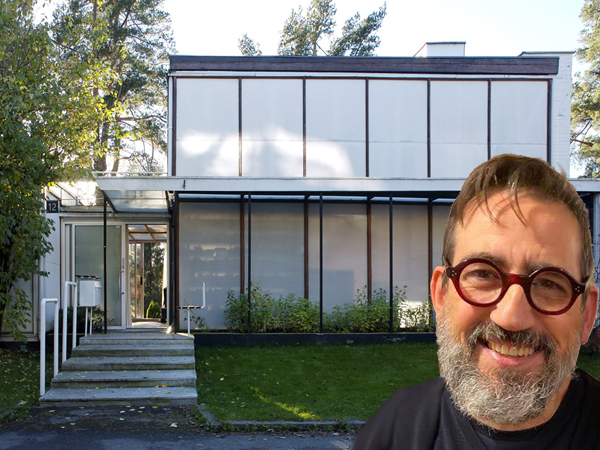 Gennaro Postiglione is Professor in Interior Architecture at Politecnico di Milano and author of The Architect's Home (Taschen) – a topic he revisits as a keynote speaker at uor conference. His research field is domestic interiors culture, at the intersection between people, places, and practices, crossing architecture, ethnography, and material culture. The same theoretical background nourishes also his research by design activity addressed towards adaptive reuse of minor and/or neglected heritage. Recently, he has engaged in a research investigating dwelling practices with the goal to provide new housing solutions for contemporary extremely articulated and differentiated households. He understands research and teaching – and tries to be consistent with - as an integral part of design practice.
In his keynote address, Gennaro will look at the architect's house as an interesting form of 3D self-reflection which is otherwise rare in the architect's oeuvre. In all houses built by architects for themselves, you see a mix of character and ideas – which may or may not be in harmony with each other.
Thematic Video - Home as Self-Portrait: Architect's Houses 
Expert presenter: Natascha Drabbe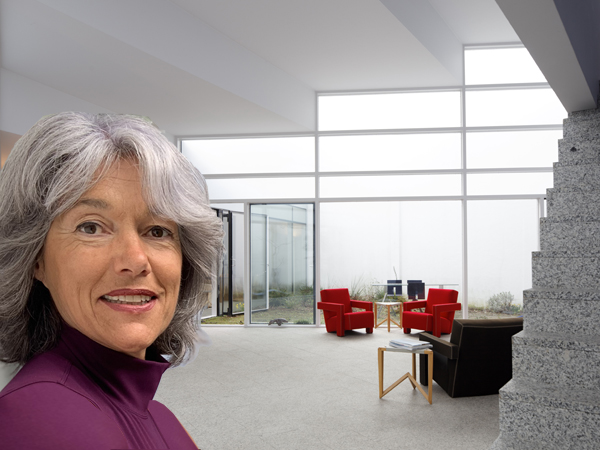 Natascha Drabbe is the founder and executive director of the Iconic Houses network. She graduated in architectural history from Utrecht University and has published, curated, lectured and been a member of design and architecture juries at home and abroad. She was an international project manager at the Dutch Design Foundation (Premsela) from 2002 to 2006. In 2007, she set up the Mart van Schijndel Foundation, in order to keep that architect's ideas alive and make his home in Utrecht available for guided tours, lectures and film screenings. This was followed by launch of the Iconic Houses Foundation in 2008 and the website iconichouses.org in 2012. International Iconic Houses conferences have been held in London, Barcelona, Los Angeles and New Canaan. Natascha lives in the Van Schijndel House in Utrecht.
Houses that architects design for themselves are like test labs for new ideas. In the four houses that are central to this episode, we see the architects Van Ravesteyn, Jan de Jong, Mart van Schijndel and the Kortekaas duo putting their theories into practice down to the smallest detail. We also see what a challenge it is to build an experimental house with the small budget that architects usually have for their own homes. As a result, they often experiment with unorthodox, cheap building materials, which later leads to major restoration issues.
Houses that will be presented in her video are:
- Van Ravesteyn House, Sybold van Ravesteyn, 1932
- Jan de Jonghuis, Jan de Jong, 1956-1983
- Van Schijndel House, Mart van Schijndel, 1992
- De Tempelhof, Huub & Adelheid Kortekaas, 1995-1999
Closing Live Stream House Tour - Penthouse West399 (private house tour) 
The day culminates in the live tour of the private Penthouse West399, designed by architects Nanne de Ru and Nolly Vos of Powerhouse Company in Rotterdam (completed in 2019).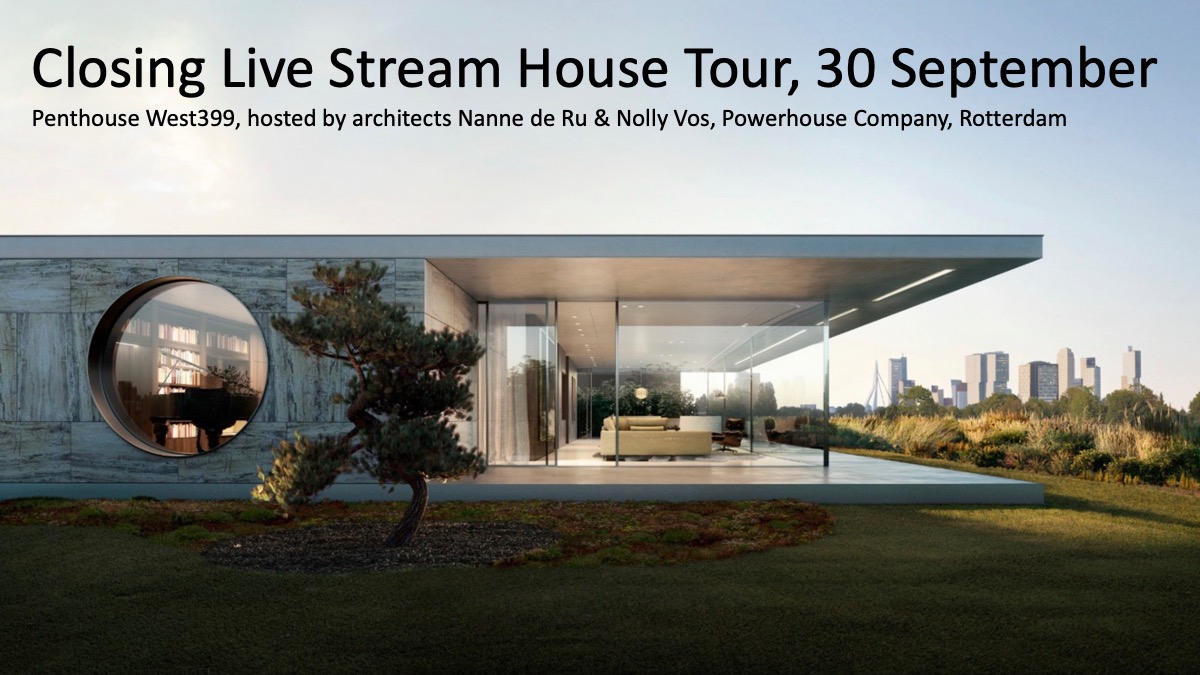 Interviews with our speakers and experts can be found on our website: www.iconichouses.org.
ICONIC HOUSES FOUNDATION • Pieterskerkhof 8 • 3512 JR, Utrecht • The Netherlands
Mobile phone +31 622 690711 • office hours CEST • info@iconichouses.org • www.iconichouses.org 
6th International Iconic Houses Conference - THE ONLINE EDITION - 2021

Registration website for 6th International Iconic Houses Conference - THE ONLINE EDITION - 2021
Natascha Drabbeinfo@iconichouses.org
Natascha Drabbeinfo@iconichouses.orghttps://www.aanmelder.nl/ihc2021the-online-edition
2021-09-02
2021-09-30
OfflineEventAttendanceMode
EventScheduled
6th International Iconic Houses Conference - THE ONLINE EDITION - 20216th International Iconic Houses Conference - THE ONLINE EDITION - 20210.00EUROnlineOnly2019-01-01T00:00:00Z
To be announced
To be announced