LUNG IN VITRO EVENT FOR INNOVATIVE & PREDICTIVE MODELS
After a successful first edition in 2018, we are back for LIVe2022 in a bigger location: Hyatt Regency, Nice, France from Monday 13th to Tuesday 14th of June 2022. This edition will be a full two-days congress.
LIVe2022 intends to be a unique exchange platform for scientists interested in in vitro respiratory researches, stakeholders from academia, pharma, biotech, chemical, tobacco, consumer goods, medical devices industries, CROs and regulatory agencies.
---
CONFERENCE PROGRAM

1. Modeling COPD/Asthma/
IPF and CF in vitro
2. Viral Infections
3. Bacterial Infections
4. Inhalation Toxicity Testing
5. Biological Barriers & Drug Delivery
6. Exposure Devices 
7. Airway/Lung on a Chip - Interconnections 
8. Think Different
The meeting will focus on predictive in vitro lung models designed for basic research, efficacy and toxicity testing. It aims to present the state-of-art of in vitro lung models, and to map out the route for its future development and use.
Go to the registration form (Early bird tickets before April 1st).
Submit your abstract for oral or poster communication. 
Deadline for submission: April 30th, 2022
---------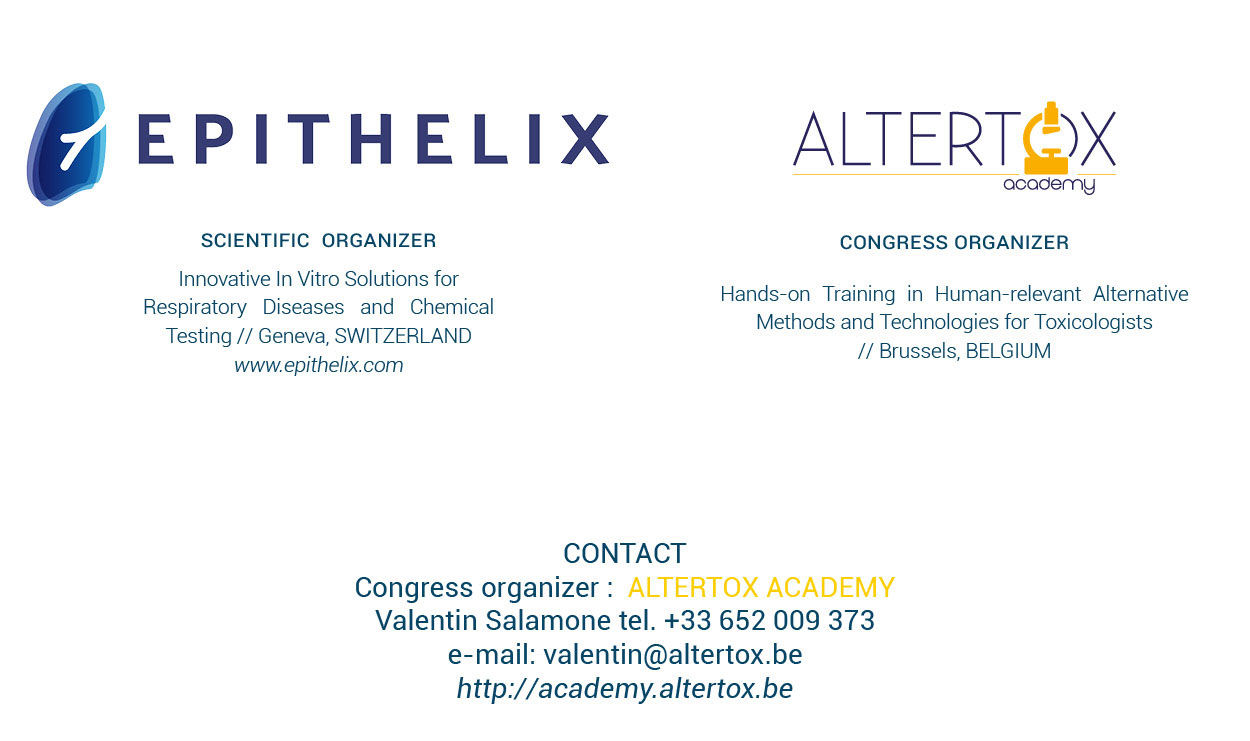 SPONSORED BY
Cancelation policy
In case you registered for LIVe2022 but cannot attend the Congress, please see below the LIVe2022 cancellation policy
- For canceling requests received 30 days prior to the 1st day of the congress, tickets fee are reimbursed totally
- For canceling requests between 30 and 15 days prior to the  1st day of the congress, ticket fees are reimbursed at 50%
- For canceling requests less than 15 days prior to the 1st day of the congress, there will be no reimbursement.
Note: In case you registered for the congress but cannot attend, the ticket can also be transferred to a colleague. Please inform LIVe2022 organizers 7 days prior to the 1st day of the congress.  If you have any additional question or need more information, please contact us at valentin@altertox.be
LIVe2022

Registration website for LIVe2022
LIVe2022francois.busquet@altertox.be
LIVe2022francois.busquet@altertox.behttps://www.aanmelder.nl/111462
2022-06-13
2022-06-14
OfflineEventAttendanceMode
EventScheduled
LIVe2022LIVe20220.00EUROnlineOnly2019-01-01T00:00:00Z
Hôtel Aston La Scala NiceHôtel Aston La Scala Nice12 Avenue Félix Faure 06000 Nice France