Welkom
for English scroll down
Met genoegen nodigen we u uit voor het Medical Delta MedTechWest event op 12 juni 2014 in Delft.
Impuls in publiek-private samenwerking
Laat u 's ochtends bijpraten door topwetenschappers en ondernemers over de laatste ontwikkelingen op het raakvlak van technologie en gezondheid. Ontmoet nieuwe samenwerkingspartners en ontdek financieringsmogelijkheden voor publiek-private R&D projecten. De mogelijkheden voor private investeringen worden toegelicht door de Kamer van Koophandel en Innovation Quarter, de regionale ontwikkelingsmaatschappij van de Zuid-Holland.
Tijdens de lunch brengt u een bezoek aan de bedrijvenmarkt en tijdens de break out sessions heeft u de mogelijkheid om middels korte pitches uw eigen boodschap te presenteren.
Vernieuwing in de zorg, Zo gaan we het doen!
In de ochtend en aan het begin van de middag hebben we twee prachtige Key Note Lectures van
Prof. Dr. Ernst Hafen (ETH Zurich en het My Data, Our Health initiatief)
Dr. Henk van Houten (Executive Vice President & General Manager Philips Research & Program Manager Healthcare)
's Middags bieden we u een sprankelend programma met een heldere toekomstvisie op innovaties in de gezondheidszorg. Onderdeel van het middagprogramma is de installatie van de eerste elf Medical Delta hoogleraren, een unicum in de Nederlandse academische geschiedenis. Zij laten zien wat de meerwaarde is van hun dubbelbenoeming bij twee Medical Delta kennisinstellingen voor onderwijs, onderzoek en kennisoverdracht in Life Sciences en Health.
Voor een gedetailleerd programma kijkt u hier onder Registration op deze site kunt u zich aanmelden. Voor de ochtend workshops geldt een inschrijvingsmaximum.
We verwelkomen u graag op 12 juni in het Aula congrescentrum van de TU Delft
Met vriendelijke groet,
Namens het Medical Delta consortium,
Prof. Dr. Eduard Klasen,
Voorzitter Medical Delta
Welcome
We are pleased to invite you to the Medical Delta MedTechWest event in Delft on June 12, 2014.
Boost to public-private partnerships
The morning session will feature workshops by leading scientists and entrepreneurs on the latest developments at the intersection of technology and health. You will meet new alliance partners and learn about funding sources for public-private R&D projects. The Chamber of Commerce and Innovation Quarter, the regional development agency of the Province of South Holland, will give a presentation on the potential for private investments.
During lunch, you can visit the company fair and you will have the opportunity to present your own message in brief pitches.
Innovative healthcare, This is how we do it!
In the morning and in the afternoon, we will have two very nice Key Note Lectures from
Prof. Dr. Ernst Hafen (ETH Zurich en het My Data, Our Health initiative)
Dr. Henk van Houten (Executive Vice President & General Manager Philips Research & Program Manager Healthcare)
We have a fascinating afternoon program lined up featuring a clear vision on the future of innovations in healthcare. Part of the afternoon will be devoted to the installation of the first eleven Medical Delta professors, a first in Dutch academic history. They will demonstrate the added value of their dual appointments at two Medical Delta institutions for education, research, and knowledge transfer in the field of Life Sciences and Health.
Please find at this site a detailed program register is possible at this site under Register Seats are limited for the morning workshops.
We look forward to welcoming you on June 12th in the Aula Congress Centre at TU Delft.
Sincerely yours,
Prof. Eduard Klasen
Chairman, Medical Delta
On behalf of the Medical Delta consortium
MedTechWest 2014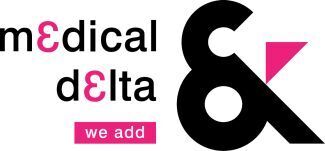 Registration website for MedTechWest 2014
Martine van Diepenbruggeevents@medicaldelta.nl
Martine van Diepenbruggeevents@medicaldelta.nlhttps://www.aanmelder.nl/medtechwestevent
2014-06-12
2014-06-12
OfflineEventAttendanceMode
EventScheduled
MedTechWest 2014MedTechWest 20140.00EUROnlineOnly2019-01-01T00:00:00Z
Delft University of Technology - Aula CongrescentrumDelft University of Technology - Aula CongrescentrumMekelweg 5 2628 CC Delft Netherlands