Workshop Registration
Workshop registration for events is a time consuming work. Workshop registration is still often done by hand, so that the registration of each workshop takes a long time. Online workshop registration is the solution. Online workshop registration automates the workshop registration in its entirety so you are carefree and the turnout of your event will be increased.

Workshop registration
Workshop registration means your digital registration form is completed by each workshop. Workshops then get instant registration confirmation and if necessary a payment confirmation. At a paid conference or workshop it is very time-saving to accept also online payment in addition to workshop registration. These services are at aanmelder.nl very simply made. In addition, you pay no fixed costs for workshops registration to aanmelder.nl.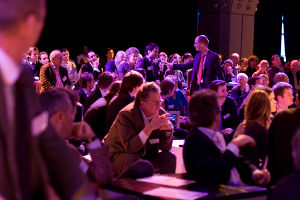 Workshops register, how do I start?
At aanmelder.nl you can literally in 10 minutes an event such as a Conference, workshop or seminar online set up. You will then create an online registration form to containing the questions you want to ask to workshops. Next, the workshop registration all by themselves and do you worry about more. At any time you can see the status of your workshop registration, so that you know which workshops register and how many workshops you can expect.
Advantages of workshop registration
Workshop registration will save you 20 hours registration work per 100 workshops. This is the time you normally spend on workshop registration by hand or via for example Excel. In addition you will get with workshop registration all registration information useful in lists and overviews that are always up to date. Also, you can easily invitations, reminders and reviews send to all workshops who have registered.
Workshop registration and online payments
The combination of online payments, through, for example, iDEAL or credit card, and workshop registration is very powerful for congresses and workshops. You see at a glance which workshops have registered and how they paid. So keep your at aanmelder.nl.
Workshop registration and communication
If workshops register online via workshop registration, benefit by also directly send group messages or emails your workshops with aanmelder.nl. Group messages are sent to all workshops automatically because the workshop registration collected the e-mail addresses of your workshops. This way, online workshop registration also improves the marketing of your Conference or workshop.
Workshop registration is the best way to show your workshops that your event handles the organization professionally. Automated workshop registration ensures that data will not be lost and workshops that registered will always find a badge upon entry. So workshop registration is a benefit for both the organizer and the workshops of a conference or workshop.
Also read about Event Registration