Welcome!
Ladies and Gentlemen,
dear Colleagues,
dear Friends of MIR,

We would like to invite you to the Annual Scientific Meeting of MIR (Management in Radiology).
MIR is a subcommittee of the European Society of Radiology (ESR) which focuses on all aspects on professional issues in today's Radiological practice, including Communication, Teleradiology and eHealth, Human Resource, Management, Patient Safety, Service Innovation, Economical issues etc.

The conference will take place in the lively city of Barcelona (Spain), at a very convenient time of the year locally, and will last two full days on Thursday and Friday, October 8 and 9, 2015. This year different sessions will focus on the multiprofessional organization and relationships in Radiology Departments,
this will provide valuable information and new aspects for Radiologists, but also for Residents, Radiographers, Medical Physicists, Department Managers and others.

The main topics in 2015 will be
Thursday, October 8, 2015
• Multiprofessional Organisation of Radiology Departments
• Roles and responsibilities in a radiology department:
Visions towards an integrative approach
• Auditing and Peer Review
• Separate interactive workshops on Professional Issues
» Workflow, control tools and clinical audit
» How to bring structured reporting into real life
» Essentials in leadership
Friday, October 9, 2015
• Actual Topics in Radiology
• Responsibilities and rights during training
• Mentoring in a radiology department
• Radiology 4.0 – New opportunities or disappearance in the future?

MIR prides itself on its friendly and informal atmosphere as well as international faculty.

We look forward to you joining us in Barcelona this October.
With best wishes,

Peter Mildenberger
Chairman of MIR Subcommittee
Management in Radiology Meeting 2015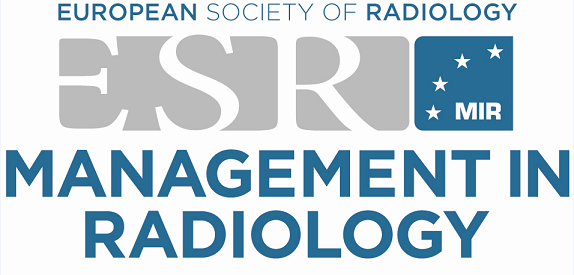 Registration website for Management in Radiology Meeting 2015
MIR Officeoffice@mir-online.org
MIR Officeoffice@mir-online.org
2015-10-08
2015-10-09
Management in Radiology Meeting 2015Management in Radiology Meeting 20150.00EUR
Fairmont Rey Juan Carlos I HotelFairmont Rey Juan Carlos I HotelAv. Diagonal 661-671 08028 Barcelona Spain