LATEST TOOLS and SERVICES for DATA SHARING - 
July 28th, 2015 in Milan, Italy
Come and learn about cutting-edge technologies and exciting new possibilities for biobank research during the BioSHaRE conference on July 28, 2015, to be held in conjunction with the HandsOn Biobanks Conference 2015 July 29th-31st, 2015  in Milan, Italy.
BioSHaRE developes and implements tools and methods for data pooling and analysis across biobanks and cohort studies. During the conference, BioSHaRE researchers will demonstrate a wide variety of harmonization and standardization tools and share their experiences with implementation and use. Long-term sustainability and broad use of these tools beyond the BioSHaRE borders is an important goal of this conference.
This conference is a must for researchers and research groups or consortia who wish to pool data across multiple biobanks and explore the latest available options. It will also provide a forum for idea exchange and for interfacing with projects in the same field of research.
We are looking forward to meeting you in Milan!
Kind regards,
Ronald Stolk, Project coordinator
Lisette Giepmans, Jennifer Harris, and Anina Bjørnhaug— organizing committee
BioSHaRE Tool Roll-out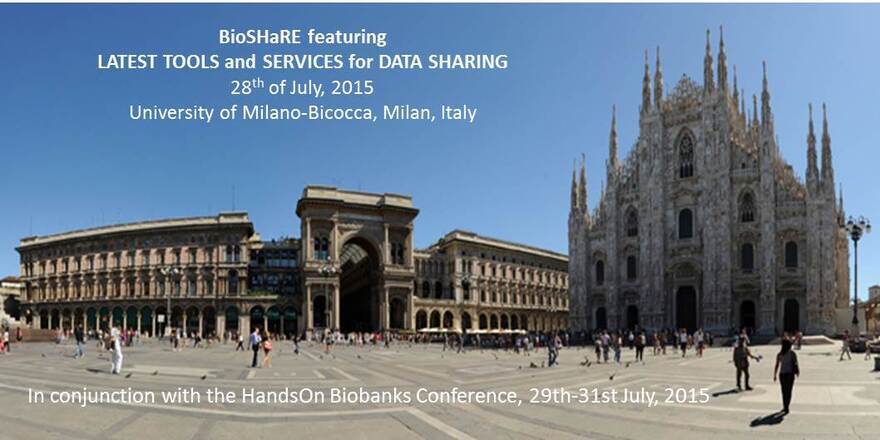 Registration website for BioSHaRE Tool Roll-out
Anina Bjørnhaugansb@fhi.no
Anina Bjørnhaugansb@fhi.nohttps://www.aanmelder.nl/bioshare-conference-milan2015
2015-07-28
2015-07-28
OfflineEventAttendanceMode
EventScheduled
BioSHaRE Tool Roll-outBioSHaRE Tool Roll-out0.00EUROnlineOnly2019-01-01T00:00:00Z
Università degli Studi BicoccaUniversità degli Studi BicoccaBuilding U6, Piazza dell'Ateneo Nuovo, 1 20126 Milano Italy